For thousands of years, in Victoria's central goldfields region, the Dja Dja Wurrung people sustained themselves and the land through their knowledge of local plants, animals, seasons, fire and geology – a knowledge passed down the centuries through stories, lore and language.
In their dreaming stories, the land and people were created by Bunjil, the Wedge-tailed Eagle, while the laws and ceremonies that ensured the continuation of life were enforced by Mindi, the Giant Serpent. The landscape was embedded with names, songs, ancestors, and murrups – spirits inhabiting the water, birds, plants, animals, rocks and mountains.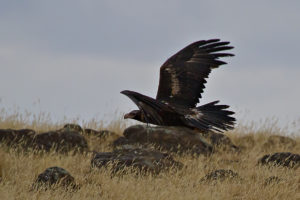 When Central Victoria was taken over for farming and gold-mining from the mid-19th century most of the Indigenous inhabitants were dispossessed of their traditional land and sent to missions – first to the Aboriginal Protectorate at Franklinford, then to other parts of the state after that was closed in the late 1860s. The stage was set for Dja Dja Wurrung knowledge and culture to disappear forever.
But against the odds, the people, their culture and their language persisted. Today, their identity and authority as Traditional Owners is formally set down in a Recognition and Settlement Agreement (2013) drawn up under the Victorian Government's Traditional Owner Settlement Act (2010).
The Recognition and Settlement Agreement recognised the Dja Dja Wurrung's sixteen or so ancestral clans as forming part of the Kulin nation in Victoria.
Joint management of parks and reserves
Importantly, the 2013 recognition agreement has given the Dja Dja Wurrung the Aboriginal Title over – and the right to jointly manage – six state and national parks and reserves within their Country.
The Dja Dja Wurrung Clans Aboriginal Corporation (DDWCAC) established a Dhelkunya Dja Land Management Board to take on the responsibility of preparing a Joint Management Plan for the parks. The board recently appointed CSIRO to lead a consortium to produce a Joint Management Plan for the six parks over the next 18 months.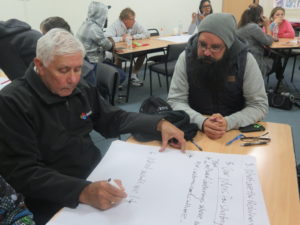 Dhelkunya Dja Land Management Board Chairperson, Graham Atkinson, says the board selected CSIRO as project manager because it has a track record in effectively engaging and consulting with traditional owner groups.
Atkinson is a Dja Dja Wurrung and Yorta-Yorta man who played a key role in negotiating recognition and traditional land ownership with the State Government. He says the Dja Dja Wurrung's 20-year vision for people (Jaara) and country (Djanderk) – the Dhelkunya Dja Country Plan – will be central to the land management plan.
"Our Country Plan acknowledges that we must transmit our cultural heritage to younger generations. The Dja Dja Wurrung people have kept their connection to Country alive through oral history, as well as through researching historical publications written at the time of European settlement," says Atkinson.
"The theme of the Joint Management Plan is Manyangurr ngulumbara Dhelkunya Djandaki Murrupi – 'we meet together to return good health to country and spirit'.
"Dhelkunya Dja itself means 'Healing Country'. Healing of Country is needed to heal Jaara, the Dja Dja Wurrung People. For Traditional Owners, the health of the land is core to who we are."
Balancing science and local knowledge
Dr Ro Hill, the leader of the CSIRO team helping develop the Joint Management Plan, says the researchers will bring a 'knowledge brokering' approach to bringing together Indigenous knowledge with western scientific approaches to land management.
This approach begins with enabling Indigenous people to mobilise and translate traditional knowledge systems so that they can eventually be woven together with western science to create an entirely way of dealing with issues like biodiversity conservation. The key, says Hill, is not to attempt to unify the different knowledge systems, but to weave them together, because each 'has its own way of knowing what's true'.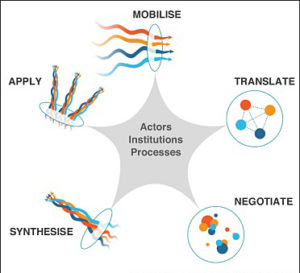 Hill has noticed that while non-Indigenous scientists and land managers tend to focus on threatened (and less visible) species in the landscape, Dja Dja Wurrung value different, often more visible, native birds and animals such as ravens, wedge-tailed eagles and sulphur-crested cockatoos.
"This awareness of more widespread species brings a new way of looking at parks management, which may be easier for more people to connect with," notes Hill.
Hill also appreciates the way Traditional Owners put people's physical, psychological and spiritual well-being at the heart of land management. This age-old philosophy is now being adopted by national parks management around the world.
"Parks Victoria has particularly taken on the idea of 'healthy parks, healthy people'. This is probably closer to the Traditional Owners' way of looking at land management than the scientific way," says Hill.
"Science's great strength is reductionism, whereas indigenous knowledge systems are holistic – they have always been holistic. The two are complementary."
Valuing language, walking Country
Trent Nelson, the DDWCAC Chairperson, is a Dja Dja Wurrung and Yorta Yorta man. Nelson is also Dja Dja Wurrung team leader at Parks Victoria, where he manages the cultural heritage of the six joint-managed national parks in collaboration with two other Dja Dja Wurrung rangers.
As a ranger, he is responsible for, among other things, land management compliance, fire management, visitor engagement and education.
An important aspect of Nelson's educational role is taking school groups and others out onto Country and talking about the places, animals and plants using Dja Dja Wurrung language when he can, before translating what he has said into English.
"It puts our language first and gets us used to speaking our language more and more. It's important that I learn my language and that it passes on," he explains.
Dja Dja Wurrung is one of 120 Indigenous languages still spoken today, a much smaller number than the 250 distinct languages (and many more local dialects) spoken across Australia when Europeans first settled the country.
Language connects Aboriginal people with ancestors and culture. So, too, does 'walking Country'. Trent Nelson has experienced this connection when he walks Country with family.
"As Dja Dja Wurrung people, we need to walk Country, to read Country, to listen to Country, and Country will talk back," he says.
"When we're together, when we're with our families, all of the generations together, we get a lot out of those experiences on Country.
"In the future, we'll create more open pathways to showcase our culture and what we do. But first we've got to get ourselves right, to heal ourselves.

"CSIRO scientists have a big task ahead of them bringing the Joint Management Plan together. When it's complete, I think it's going to be a standalone document that a lot of other Traditional Owners around Victoria will look towards and utilise and hopefully benefit from as well."