Scientists have discovered birds eating a party balloon and playing with a plastic bottle, as well as finding a soft drink can 1,000 metres under the sea while on a voyage off Tasmania's coast.
The researchers saw the "heartbreaking" scenes onboard the CSIRO vessel RV Investigator on a trip to explore underwater mountains.
On Saturday, researchers were nearly 100 kilometres out to sea when they saw birds interacting with the plastic waste.
Marine biologist Alice Forrest said it looked like the bird was having a snack.
"We thought it had a squid in its mouth and upon closer observation we realised that what we thought was a squid with tentacles was a rubber balloon with a string trailing from its mouth," she said.
"It's heartbreaking to see, especially somewhere like this where we're so far from people, somewhere that looks so untouched.
"We're looking at this animal that's so beautiful and so well-adapted to this amazing ocean environment and then here it is with some of our trash causing a major threat."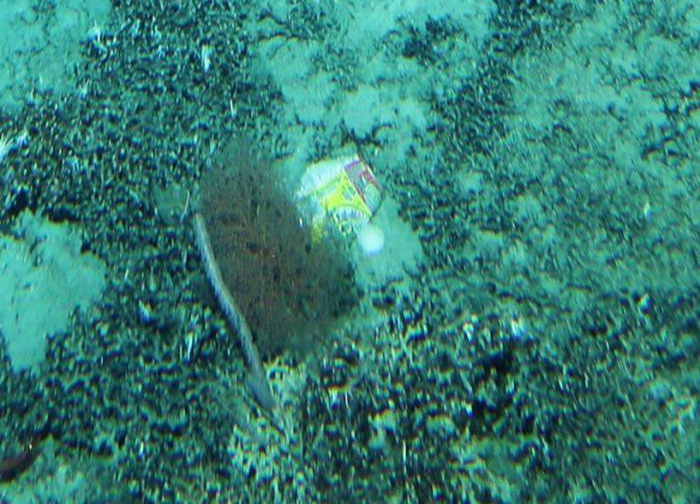 On the same day, the scientists saw a group of albatrosses investigating a plastic bottle.
"They're very curious birds and they were all gathered around it and one of the birds was picking the plastic bottle up and throwing it around," she said.
"We're exploring the deep seamounts that are south of Tasmania, we were about 50 nautical miles south off the coast when we saw this interaction."
Scientists on board the vessel also found a soft drink can 1,000 metres below the ocean's surface amongst soft coral.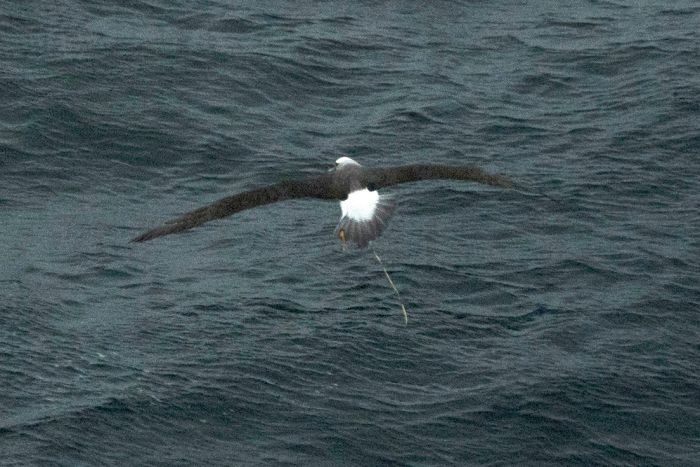 'Plastic' in stomachs of Antarctic birds
Eric Woehler from BirdLife Tasmania said the problem was getting worse.
"It's disconcerting to see this sort of interaction — and to see both of them on the same day," he said.
"It reinforces just how widespread this must be happening."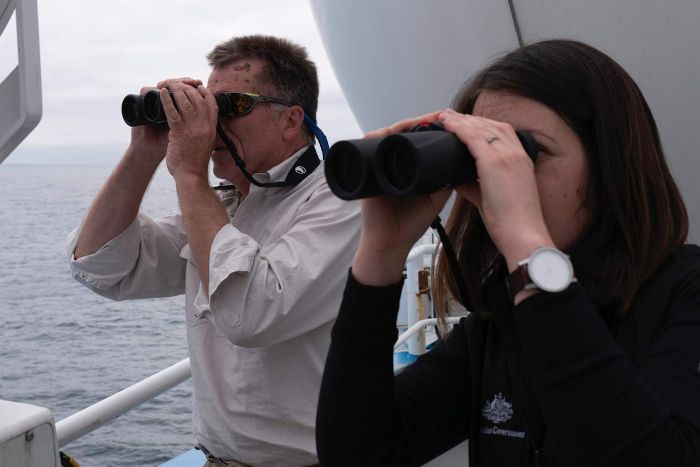 Dr Woehler said it was not the first time he had seen party balloons at sea, after researchers discovered two groups of balloons hundreds of kilometres off the coast of New South Wales in September.
"It's affecting every marine species in the marine environment," he said.
"We've seen plastic particles in the stomachs of birds nesting on the Antarctic continent. It's a global problem."
This article originally appeared on ABC News online.