On the islands of the Torres Strait between the northern tip of Australia and Papua New Guinea, the impact of climate change is proving a real and serious threat.
Rock lobsters are a valuable commercial fishery in the Torres Strait, grossing $20.5 million in 2018-19. Hundreds of Indigenous fishers rely on rock lobsters for their income.
In 2018, the number of adult lobster were lower than normal corresponding to an earlier El Niño event significantly impacted the industry, with the fishery having to close early in the season. This had significant economic and societal implications. The community is also facing sea-level rise and increases in ocean temperatures.
The fishers are working closely with CSIRO scientists to pave a successful way forward.
"We have been acknowledging cultural knowledge in parallel to science surveys, which saw a new harvest strategy implemented in 2019 to ensure sustainable levels of catch," explained Dr Eva Plaganyi, Senior Principal Research Scientist from CSIRO's Fisheries Assessments and Marine Ecology team.
"Modelling is also providing insights to help fishers prepare and adapt for future conditions caused by climate change. This includes understanding extreme temperature events and how these could impact the community and ocean resources."
CSIRO models are helping predict what to expect as temperatures continue to rise. This includes changes to ocean currents and damage to critical habitats for fish and lobsters.
"Fishers are already implementing new methods to adapt. For example, they have been keeping 'holding cages' deeper in the water during heatwaves. Warmer water holds less oxygen so they are reducing packing density of the lobsters to improve survival," said Dr Plaganyi.
"Adaptation approaches will help to ensure the traditional way of life continues, while also supporting the fishery's longevity in the face of climate change."
A nest egg for conservation
It's not only lobsters on the menu for marine climate change adaptation innovation. CSIRO scientists are aiding the conservation of endangered species, such as the Tasmanian shy albatross.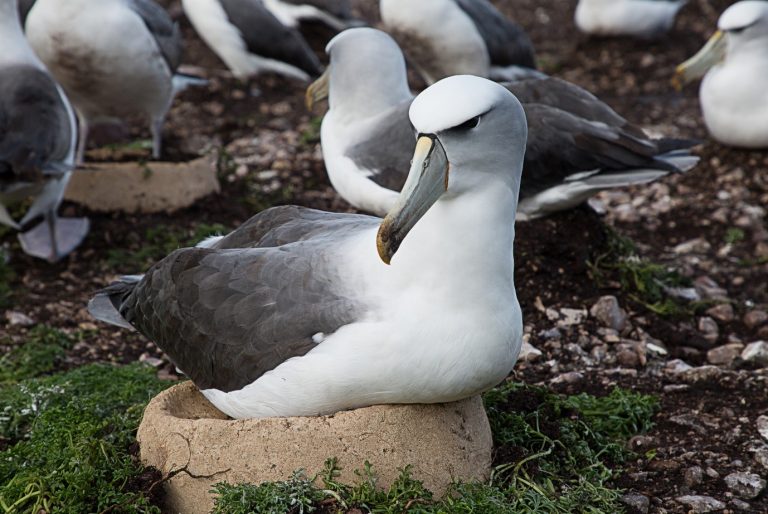 "Shy albatross lay only one egg per year and build nests to protect the single egg. However, extreme weather events over the last decade have threatened the durability of these nests, potentially lowering breeding success," said Dr Alistair Hobday, Research Director for CSIRO's Coasts and Ocean Research Program.
"This may be one of the factors leading to decline in numbers of the species, which are already listed as endangered."
To address this, CSIRO scientists have built artificial nests for the birds that safeguard the eggs. They are made from concrete and mud materials which make them stronger against extreme weather.
"The shy albatross have personalised these artificial nests with mud and vegetation, as they would normally do when building their own nests. As a result of this experimental intervention, we have seen breeding success increase by 20 per cent," said Dr Hobday.
"With a population of only around 15,000 pairs of shy albatrosses left, this is really promising and provides hope for future conservation of this endemic species."
Preparing for marine heatwaves
Along with practical interventions, computer-based learning is playing an increasingly important role responding to extreme events.
The world's oceans have warmed unabated since 1970 and have taken up more than 90 per cent of the excess heat in the climate system. As ocean temperatures are increasing, so too are marine heatwaves. It's expected marine heatwaves will become more frequent and longer lasting.
"A previous heatwave off Western Australia in 2011 saw water temperatures soar to five degrees above normal," said Dr Hobday.
"This had significant consequences not just for marine ecosystems and marine life, but for the industries and communities that rely on them.
"Fisheries including crabs, abalone and scallops were devastated. There was widespread seagrass damage, and coral bleaching occurred along 375 kilometres of the Western Australian coast, from Ningaloo Reef to Shark Bay.
"These consequences highlight the need to plan for these events. This is where accurate modelling tools and predictions can play an important role."
In December 2020, in a world first, CSIRO used machine learning to forecast a heatwave that subsequently occurred in the waters off Western Australia in January 2021.
"Forecasting a marine heatwave can help fishers determine when stocks will be healthy or vulnerable, so they can alter their catch accordingly. Restoration efforts for already affected areas, such as seagrass meadows, can be better planned to bolster positive results. Marine businesses can also plan ahead to avoid costly disruptions," added Dr Hobday.
Weathering the impacts with innovation
On the Great Barrier Reef, coral reef restoration efforts are in full swing to help this unique ecosystem adapt to a range of threats from climate change such as ocean acidification and warming.
Corals from northern parts of the Great Barrier Reef are naturally more heat tolerant than those from cooler southern waters. Scientists, including Dr Christopher Doropoulos, Senior Research Scientist from CSIRO's Management of Impacts of Biodiversity team, are aiming to use coral larvae collected and cultured from more northern regions and transport them to more southern regions to assist coral recovery and long-term resilience to warming seawater.
"We settled around 10 million larvae collected from wild coral spawn slicks using a floating aquaculture system to test the possibility of conducting such an operation at large scale," said Dr Doropoulos.
"Over the next couple of years, we aim to test the effectiveness of this approach in increasing coral tolerance to thermal stress."
The microalgae that live within corals are also vital for corals' ability to survive bleaching events.
"Under normal conditions, the microalgae are rarely exposed to increased temperatures. However, they need to be able to assist the coral withstand more frequent thermal stress events," explained Dr Doropoulos.
"To increase their resistance to changing conditions, we worked with the University of Melbourne and the Australian Institute of Marine Science. We cultured the microalgae in a laboratory and exposed them to elevated temperatures regularly, and with more intensity.
"After four years of building the microalgae's resistance to higher temperatures, we reintroduced them into coral larvae. Results showed that the induced larvae were more tolerant to thermal stress."
These innovative approaches are providing the foundation for applying and improving the long-term benefits of coral restoration.
Marine marvels for future generations
Aboriginal and Torres Strait Islander peoples' connection to the ocean is long running and strong. Linking Indigenous knowledge with the latest science will be critical for informing how we adapt and respond to changes in the marine environment moving forward.
"We have been working with the custodians of the Torres Strait Rock Lobster Fishery for more than three decades," shared Dr Plaganyi.
"We are continually learning from each other. Ongoing trust, knowledge sharing, and collaboration has enabled best practice and new methods to be put in place to deliver the best outcomes for the fishery and its people.
"The science shows climate change is already impacting the marine environment. An array of knowledge and scientific tools will ensure our ecosystems, marine life and communities can adapt and thrive for generations to come."
Watch how the latest science is helping to address the future impacts of climate change to our ocean environment: