An often-overlooked aspect of antimicrobial resistance (AMR) is its emergence and spread within the environment, specifically within our water sources.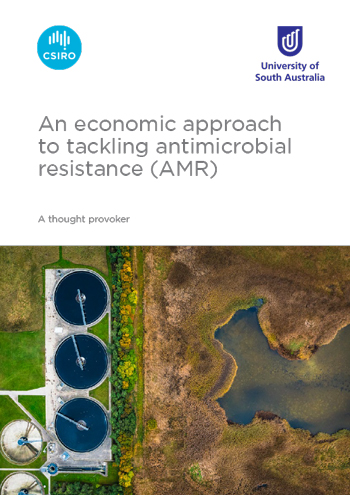 To consider how this may be addressed, the Minimising Antimicrobial Resistance Mission has engaged senior economists at the University of South Australia to provide an economic perspective on minimising AMR in wastewater.
In recognition of World Water Week, a preface outlining various economic approaches that can be applied in this context is now available.
Download the though-provoking piece
AMR is undermining modern medicine by making infections more difficult and costly to treat.
The underuse, misuse and overuse of antimicrobial medicines has led to a rise in AMR, where bacteria and other microorganisms become impervious to drugs, such as antibiotics, intended to eliminate them.
The problem is further complicated by the spread of antimicrobial contaminants into natural waterways through sources such as healthcare facilities, domestic sewerage, agricultural activities, and livestock runoff. This contamination exacerbates the problem.
Addressing AMR requires comprehensive, interconnected solutions. Known as the 'One Health' approach, it underscores the intricate links between human, animal, and environmental health. The complexity of the challenge defies a single, straightforward solution.
No singular solution exists; there is no silver bullet. But for organisations that use antimicrobials, or manage waste containing these substances, the application of an economic lens to decision-making can help ensure the most effective and efficient actions are taken to minimise the impact of AMR.