Establishment of the Conn seed production area
The Conn seed production area (SPA) was established in 1998 to produce commercial quantities of highly improved seed of Acacia crassicarpa, utilising selected seedlots of proven performance including families and bulk seedlots from natural collections and a seed orchard.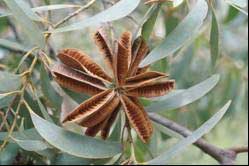 In addition to seed production, the unique design of the Conn SPA enables it to serve as a part of a base population for selections of parent trees for subsequent generations of breeding.
Located on a site on the coastal plain at Conn, near Cardwell in north Queensland the Conn SPA incorporates seedlots from three separate sources:
The best 45 A. crassicarpa family seedlots for growth and form out of 150 seedlots tested in a provenance-family trial at Melville Island, Northern Territory – all 45 originate from PNG provenances.
A bulked seedlot from an A. crassicarpa seedling seed orchard in Fiji comprising over 100 individual families and four provenance bulks from PNG – this seed orchard had been phenotypically thinned (one quarter of trees retained) prior to seed collection.
A natural stand provenance bulked seedlot from Oriomo, PNG – this source has consistently proven to be one of the best natural provenances for growth and form in a number of earlier field trials.
Design details of the Conn seed production area
Results from previous A. crassicarpa field trials and seedling seed orchards were used in the design of this SPA to ensure that it would produce reliably good, genetically improved seed.
The site sits at an altitude of around 50 m above sea level with an average annual precipitation around 1900 mm. The mean annual temperature is around 23oC.
The SPA was originally established as a randomised complete block design with more than 20 replicates. Each replicate comprises 3 rows – one row of each of the 3 sources.
Within the row of the 45 family seedlots (in each rep), the individual families are set out as randomised single-tree plots with family identities recorded.
Maintaining the Conn seed production area
Since establishment the Conn SPA has been selectively thinned heavily on two occasions – most recently in 2005 – and now is at about 250 stems per hectare (about 20 percent of the original stocking). The thinning of the SPA was carried out based on phenotypic selection – only the best trees, as judged subjectively by a combination of growth and stem form, were retained after thinning.
Seed availability
Customers in Australia and overseas are able to purchase high quality A. crassicarpa seed from the Conn SPA.
Related to this page