Establishment of Eucalyptus dunnii seed orchards
In 1995 CSIRO, Riverina Trees and local land holders established Eucalyptus dunnii seedling seed orchards on three sites near Deniliquin, New South Wales.
Originally established as trials to test for superior provenances, families and individuals, they were converted into seedling seed orchards by a two-stage selective thinning in 2000 and 2002. Selection was based on stem diameter leaving only the best trees for seed production.
Additionally in 2002 and 2003 CSIRO, Forests NSW and V.L. Carroll Pty Ltd established, and now manage, an E. dunnii clonal seed orchard near Corowa, New South Wales.
Selections were made from superior individuals in two existing first-generation seedling seed orchards near Coffs Harbour, New South Wales. These selections were grafted to produce the clones for establishing the clonal seed orchard.
High quality E. dunnii seed is now being produced from these orchards for sale to plantation growers within Australia and overseas.
Deniliquin seedling seed orchards
The Deniliquin seedling seed orchards incorporate between 95 and 115 families of E. dunnii sourced from the species' natural distribution.
Deniliquin is situated between 90-100 metres above sea level with an average annual precipitation is 410 mm plus irrigation as required, equivalent to about 300-400 mm annually. The mean daily minimum temperate of the coldest month (July) is 3.4oC and the absolute minimum temperature is around -5.1oC.
Each orchard located in Deniliquin was originally established as a randomised complete block design with four replicates per orchard. The family plot size was originally five trees, progressively thinned to one tree per plot by 2002, with plots of some of the poorest families removed completely.
Corowa orchard site details
The Corowa E. dunnii orchard is made up of 30 clones. Individual trees were selected from two established seedling seed orchards, scion material (tissue from one plant that is grafted to another to make a new and better whole) collected, and grafted to produce about 580 trees that make up the clonal seed orchard.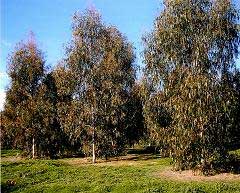 The selection of the 30 superior trees from the seedling seed orchards was based on a selection index incorporating growth and wood basic density.
Corowa is situated about 200 metres above sea level with an average annual precipitation around 540 mm plus irrigation as required, equivalent to about 400 mm annually.
The orchard is planted in rows with individual clone ramets planted in groups of three unrelated ramets to promote outcrossing.
Seed availability
Seed from the E. dunnii seedling seed orchards is available to be purchased by customers in Australia and overseas.
Related to this page