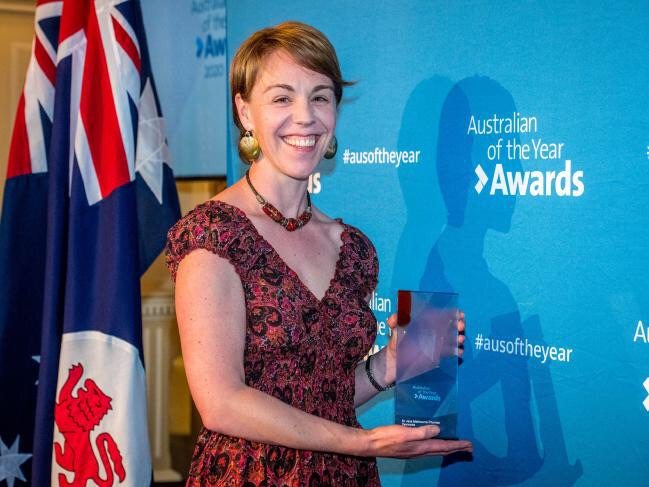 What do John Farnham, Cathy Freeman, Professor Fred Hollows and Arthur Boyd have in common?
They have all been Australian of the Year.
For the last 60 years, some awesome Australians received this honour for their contribution to our nation.
Now, our climate scientist, Dr Jess Melbourne-Thomas, is in the running for the top honour for 2020!
Jess is a pioneer in science and a champion for women in STEM. Following her Australian of the Year Tasmania award, Jess is now up for the national gong.
We chatted with Jess to find out more.
What does your Australian of the Year nomination mean to you?
I'm delighted that the things I stand for – women in science, Antarctica, marine ecosystems and climate change research – are being recognised. The nomination gives me a platform to talk about these things to a broader audience.
I'm also hugely honoured. I wish I knew who nominated me so I could thank them!
Tell us more about your climate science research.
My focus is understanding and predicting the effects of climate change on marine ecosystems – from the tropics to the poles.
We need to combine scientific knowledge on the impacts of climate change to best assess how we can respond and adapt. My aim is to connect the science with policy for better decision-making.
A recent highlight was being a lead author for the Intergovernmental Panel on Climate Change (IPCC) Special Report on the Oceans and Cryosphere in a Changing Climate.
I was juggling a new baby and a toddler at the same time, so it was a challenge!
Why did you pursue a career in science?
I grew up snorkelling, scuba diving and bushwalking in Tassie with my family. So, science was a natural pathway for me. I have always had a fascination with learning more about natural environments.
You're a champion for more women in science. Why is this important to you?
It's about fairness and equity. Women and people from minority groups should have equal access and opportunities for career progression in science.
We also need diversity in scientific teams and leadership. This will bring different ways of thinking, flexible approaches and adaptability to address the challenges we're currently facing.
How can we increase women in STEM?
Having other female role models is incredibly important. At CSIRO, I have access to supportive female mentors. This builds my skills and inspires me.
Early in my career, there was a lack of senior female role models and I lost direction. But things are changing, which is great.
I have advocated for more women in STEM as a co-founder of Homeward Bound. This leadership program brings together women from all over the globe to increase their professional and personal development. The fourth cohort of almost 100 women recently returned from a trip to Antarctica. We had six talented CSIRO scientists take part this year.
You're passionate about sustainable ocean resources. How do we achieve this?
We need to bring together different branches of science and knowledge, and apply it on a local, regional and global-scale, to address the effects of climate change in the marine environment.
The development of a sustainable Blue Economy will be a key part of this. It's exciting to see the scope of research coming out of the recently-launched Blue Economy Cooperate Research Centre, with new applications for renewable energy and offshore aquaculture.
What is a typical day for you at CSIRO?
Working by the water at our Hobart site, it's cool to be directly connected to the marine environment. Right now, there are three newly-hatched Kelp Gull chicks right outside my office window so that's a lovely bonus!
I get to see the RV Investigator come in and out of the harbour. I also see seals, dolphins and whales. While I'm working on my computer, it's a great reminder of what our research is about and the positive impact we can have.
What inspires you most?
My family. The things I do simply wouldn't be possible without the incredible support and love they provide.
What are your favourite things to do on the weekend?
My weekends are mostly spent chasing small children and frantically catching up on housework! We get to do fun things too – playing at the beach, walking, working on our bush block or exploring my parents' huge garden.
I'm looking forward to getting back into mountain biking and scuba diving once the kids are big enough.
You've travelled to Antarctica and had your portrait beamed on New York's Grand Central Station. What's next?
First up will be the Australian of the Year ceremony and connecting with other talented Australians doing amazing things.
I'm extremely excited about my work here at CSIRO and the great opportunities ahead. Particularly working across disciplines to develop novel solutions to current and future challenges for our oceans.
The Australian of the Year winner will be announced on 25 January.
Good luck, Jess! You have our vote.