To reflect the National Science Week 2022 theme – Glass: More than meets the eye – we're celebrating three women breaking through the glass ceiling.
It's safe to say we have no shortage of incredible women working with us. From engineers to chemists to agricultural scientists, the women of Team CSIRO are shining role models for the next generation.
Only 18 per cent of leadership positions are held by women across science, technology, engineering, and mathematics (STEM) fields.
Breaking through the glass ceiling is a metaphor for the invisible barrier that prevents some people, often women, from progressing to senior leadership. We've profiled some of our senior women leaders – Professor Bronwyn Fox, Dr Marzi Barghamadi and Dr Jess Hyles – to see how they did it.
Professor Bronwyn Fox
From research assistant to Chief Scientist, Professor Bronwyn Fox[Link will open in a new window] has smashed the glass ceiling to pieces. As a materials engineer with a keen interest in the manufacturing of lightweight materials, she began her career at CSIRO in the 1990's. She was working with the Cooperative Research Centre (CRC) for Polymer Blends, which later became the CRC for Polymers.
Bronwyn went on to accelerate the growth of a carbon fibre and composite industry in Australia and founded the Carbon Nexus facility at Deakin University. She was also instrumental in forming Australia's Industry 4.0 strategy, and led the establishment of a world first Industry 4.0 Testlab for additive manufacturing while at Swinburne University of Technology.
She returned to CSIRO in 2021 as our fourth female Chief Scientist. For the first time in Australia's history, women now fill our top three government science positions – Dr Cathy Foley as Australia's Chief Scientist, Professor Tanya Monro as Chief Defence Scientist; and Bronwyn as Chief Scientist at CSIRO.
Bronwyn says role models are critical to encourage more girls to pursue a career in STEM, and for more women to rise to leadership positions.
It's about the cascade effect – brilliant, generous women attracting the next generation and showing them what they can achieve.

Professor Bronwyn Fox
Dr Marzi Barghamadi
No matter where you are, you can be sure you're near a lithium-ion battery. Standing at the forefront of our lithium battery research is Dr Marzi Barghamadi[Link will open in a new window].
Science subjects were always Marzi's favourite at school. She was considering medicine, but decided to study chemistry at university.
Marzi completed a Master's degree in analytical chemistry and received two PhD scholarship offers for electrospinning and nanofibers. But the third offer to do her PhD scholarship on lithium batteries would shape her career. And land her squarely in an area of huge personal interest: renewable energy.
Marzi is one of five women across Australia and New Zealand to be awarded a L'Oreal-UNESCO For Women in Science Fellowship. This incredibly competitive fellowship strives to support and recognise accomplished science researchers.
With this scholarship, Marzi will provide a deeper understanding of how lithium metal degrades and forms dendrites, one of the key issues of lithium metal batteries.
Her piece of advice for women looking to enter a career in STEM? Follow your passion and trust your capabilities.
Believe that you are the one who leads your future career. Everyone makes mistakes along the way, that's how we learn.

Dr Marzi Barghamadi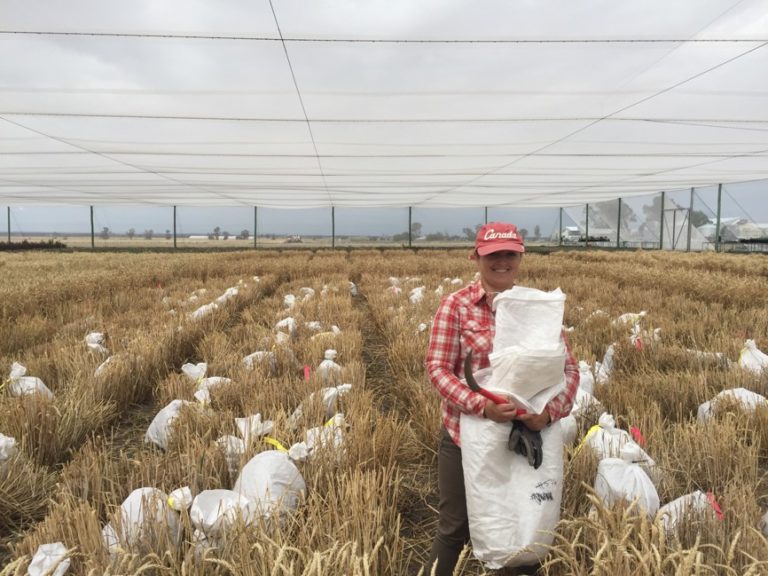 Dr Jess Hyles
It has been a career with many twists and turns for Dr Jess Hyles[Link will open in a new window]. Jess joined us as a laboratory technician back in 2002. She worked in wheat breeding to adopt new technologies like robotics that would make plants more efficient.
In the beginning, Jess didn't always have her sights set on a career in agriculture. She studied biomedical science at the University of Technology Sydney and was working in medical research. Until she met a special someone.
It was meeting her husband that sparked a twist in Jess' journey. He was a farmer, and Jess decided to look for a career that fit her family life on the farm. She completed a Master of Agriculture at the University of Sydney while working in the lab.
Two years and two children later, she decided to work part-time to balance family and work. Ten years later, there was another twist.
Jess wanted to focus more on science and what better way to do so than with a PhD. At the same time, Jess became a lead for Inclusivity and Diversity. Recently she took on a new role as Group Leader for the Future Breeding Group of Agriculture and Food.
If you surround yourself with positive people who support you and your passion, they'll help you find your own happy place. That is what I hope to pass on; encouragement and support for others to create their unique path in science.

Dr Jess Hyles
Your STEM career
These three inspiring women show how diverse STEM careers can be. And how we can all work to smash the glass ceiling for women.
We're addressing gender equity through our work with the  Science in Australia Gender Equity (SAGE) pilot, the Champions of Change Coalition[Link will open in a new window] (CCC) initiative, and the Champion of the Women in STEM Decadal Science Plan[Link will open in a new window].
We're also recruiting the next generation of inventors, innovators and change makers through our 'Impossible without you' campaign. From engineers to researchers to professionals, see what's possible for your STEM career. Join Team CSIRO[Link will open in a new window] and help make the impossible happen.