As a child, Sandra Occhipinti loved jigsaw puzzles.
"I loved piecing together what went together, what led to the next connection, and seeing how each little fragment contributes to the bigger picture," she said.
Her career too would fall into place, sometimes in serendipitous ways. The man who helped her fill in her college form was a geologist and he convinced her to give his favourite subject a try. By her second year, Sandra knew she had stumbled across her calling.
As a student, she recalls a fieldtrip to Mansfield, Victoria. At the foothills of the Great Dividing Range, Sandra fell completely in love with geology.
She saw it as a jigsaw on a planetary scale – piecing together a picture of how the Earth had evolved over time. And critical minerals would come to be a key piece in her puzzle too. 
A woman in the field
One of Sandra's first jobs was with the Geological Survey of Western Australia.
"At the time I was one of only two female field geologists working with them. Even in our first year we were expected to do remote field work on our own," she recalled.
It wasn't something for the faint of heart. She learned to move heavy equipment and change tyres on a fully-loaded Land Cruiser. Aware of her vulnerability, she had to hide her camp spots to protect her personal safety.
"There were a few incidents that scared the life out of me – stories I tell now as lessons learnt. I would never send someone out on a field trip now the way I was then," she said.
Then there was the everyday sexism. After Sandra got married, she recalled a cartographer automatically changed her name on a map before it was published. He never thought to ask her what she preferred. And when it came to promotions, she had to lobby to have her skills and qualifications recognised as on par with her male colleagues.
"Just being a woman in the minerals industry was a novelty," Sandra said.
But times have changed for the better. "Now, as a female leader in the resources industry, I am able to support other women (and men) and people from diverse backgrounds to build careers based on talent, respect and equality."
On a high-tech hunt for critical minerals
Today, as a Research Director heading our Mineral Resources discovery program, Sandra continues to explore Australia's great abundance of mineral wealth.
Sandra has fantastic new digital techniques at her disposal that complement traditional exploration methods.
"The ancient landscape has evolved over millennia. Natural processes have weathered and changed the surface, obscuring the mineral systems underneath," she explained.
"Things like machine learning and artificial intelligence are helping us integrate large amounts of data. They help us 'see' beneath thick cover and find new exploration targets."
Their focus is on new ways to predict the presence of metals like copper and lithium. They're also looking for rare earth elements and nickel. When applied to a range of data, machine learning techniques can help the search.
We are working with companies to pinpoint new deposits using an array of techniques and data. For example, they study hyperspectral data or radiometric data from spaceborne or airborne systems. This can help define areas that may contain these deposits. The team is also identifying new ways to find areas of higher prospectivity for a range of critical minerals.
A sustainable and prosperous industry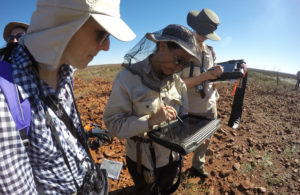 Sandra believes we are going to need to develop more mines to provide the critical minerals needed for the green energy transition. It's one clear path away from coal, oil and gas to a truly green energy model.
"Our challenge is to ensure those mines are built in a responsible and environmentally-safe way to make sure they are socially accepted," she said.
"We need to get the balance right, between the looming requirement for reliable sources of critical minerals, as well as ensuring we have checks and balances in place."
To help realise this vision for Australia, she will continue to read the earth around her to understand what lies beneath the surface.
"Piecing together the story of the rocks is my way of uncovering the mineral resources we all rely on in our daily life and for our future," she said.