Dr Krishnan Murugappan is thrilled about the potential of  CSIRO's Vesi™ system to help all kinds of industries and communities enable superior, continuous water monitoring.
"In rural and regional areas of Australia, you need good water monitoring. Access to real-time, high-quality water monitoring has huge potential to support resilience in these communities," says Dr Murugappan, senior research scientist in CSIRO's Mineral Resources business unit.
"However sampling is usually manual so is done just once a month. This gives just a snapshot. It doesn't give you continuous data."
"Our Vesi™ sensor system offers superior monitoring, delivering continuous detailed data in real time."
Vesi™ sensor system evolving to meet monitoring needs
The Vesi™ team is in the midst of a 12-month trial for Heathgate Resources in South Australia.
"They particularly wanted to monitor the pH and ORP in the aquifers circling the mine site," says Dr Murugappan.

The multi-sensor system uses CSIRO's patented electrochemical solid-state technology. Other third-party sensors can be added if required. Data is uploaded automatically from the Vesi™ sensor pack to the cloud. This allows access to data anywhere in real time.

Heathgate Resources Pty Ltd uses an in-situ recovery (ISR) method to extract uranium ore with minimal earth disturbance.

The team learned a lot from the Four Mile mine where the trial took place.

"We found that the aquifer was a highly reducing environment, which didn't allow one of the electrode systems to last long," he says.

"The team modified the electrode to suit such an environment and made it more robust. You only get that system feedback in a field trial."

"That's only one type of environment and now we want to showcase how robust Vesi™ can be for other applications" says Dr Murugappan.
Testing water quality for other water sources
CSIRO recently successfully applied for a Science and Industry Endowment Fund (SIEF) grant to support the next set of field trials.

"The SIEF grant and contributions from CSIRO and industry partners amounts to $1.7 million. This will let us trial Vesi™ in a range of different conditions to see how it operates and where it stands out. There is still a lot to uncover"

Vesi™ is currently at a minimum viable product stage. CSIRO is actively looking for new partners as the team deploys field trials.

This will demonstrate the system's commercial viability across other industries and a variety of water bodies.

"We hope these trials will successfully show the breadth of its application," says Dr Murugappan.

"For example, we will try Vesi™ in surface water and flowing water and in environments where there are likely to be bio-contaminants, such as prawn farms."
Solid-state sensors deliver long-term water monitoring data
What makes Vesi™ unique is its patented electrochemical solid-state sensor technology.

"This provides the platform for robust long-term measurement of pH and ORP," explains Dr Murugappan.

"Commercially available sensors use either a glass-based reference electrode or a gel-based reference electrode. Both need continuous maintenance."

CSIRO has developed a solid-state reference electrode that lab tests have shown can last up to 12 months.

"In the Heathgate trial the reference electrodes were stable in the aquifers when we checked them at six months."
Ready to submerge Vesi™ in new challenges
"Within our group, we have chemists, material scientists, mechanical engineers and electronics experts – a really good mix of people working on Vesi™," says Dr Murugappan.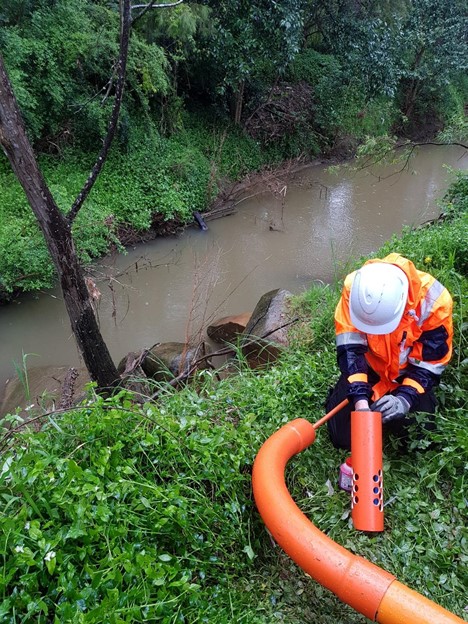 In October, a Vesi™ system was positioned in a flowing freshwater creek.

"We learned a lot from this deployment," says Dr Murugappan.

"We found significant engineering controls need to be in place to make sure the sensor pack was secured and always in contact with the water."

The key field trial team members include Daniella Caruso, David Macedo, Tony Kilpatrick, and Dylan Marley.

"We're looking forward to the new challenges the rest of the deployments will throw at us," he adds.

And there are bound to be plenty. By June next year, there will be at least six field trials underway.

"One of the field trials is in a prawn farm," he says.

"The issue here is that you will have all kinds of bio-contaminants. Will we get fouling of our sensor system? Will this cause them to fail? Or will it remain robust for six months like in the Heathgate trials? That's what we need to find out."

Each deployment will have unique needs and challenges. The number of sensor packs deployed depends on the use case.

At Heathgate, they had a Vesi™ sensor pack in each of the 10 aquifers. 

For the prawn farm, one Vesi™ sensor pack will be deployed in a tank.

In another scenario, one Vesi™ sensor pack will be situated in a creek at the outlet of a wastewater stream.

Once Vesi™ is deployed the team gives them three to four weeks to stabilise and then return.

"We go back and perform a one-off calibration."

The team will also work on miniaturising the technology.

"Because Vesi™ is quite a big pack right now, by the end of 2023 our goal is to have a miniature version which will have more applications," says Dr Murugappan.

"This will enable deployment in even more sites and applications."
Become a trial partner
The field trials will show the team how long the sensors remain operational in the different environments.

This will likely lead to other modifications to push the technology further along its commercialisation journey.
And so CSIRO is calling for partners to trial the technology.

"We are keen to hear from prospective partners, from other tech companies and manufacturers to industry collaborators who want to trial it," says Dr Murugappan.

"For example, we want to partner with sensor-electrode manufacturers, water-quality companies and perhaps even developers who can help us with that miniaturisation goal."

Commercialising any technology developed in the lab can be a long journey and field trials are a critical part of that – we are well on the way with our Vesi™ sensors.

Contact Krishnan.Murugappan@csiro.au if you would like to partner with us for a field trial.

Vesi™ takes its name from the Finnish word for water. The name is a nod to Dr Mikko Vepsalainen, a scientist who worked on early R&D in developing the technology before returning to live in his native country. The technology was previously know as SENSEI. The name changed to Vesi in July 2020.