Key points
Extensive, detailed patenting activity for over 60 years has helped protect Barbie from copycats and competitors.
Barbie's intellectual property (IP) strategy serves as an example of success, like those that support successful scientific innovations and inventions.
Ongoing IP management is crucial throughout an invention's lifetime to ensure it evolves with consumer and market demands.
Love her or loathe her, few things have stood the test of time like Barbie. While solid marketing has certainly helped her survive drastic cultural and generational shifts, good intellectual property (IP) management has been just as pivotal in protecting Barbie and her brand over the decades.
Any time something new and original is created, so too is IP. For CSIRO, IP underpins all of our successful technologies. Rather than producing physical goods or commodities, the value we create lies in new ideas, methods, technologies, and solutions that can be protected as IP. So, in the wake of Barbiemania, we were curious to find out how Barbie's approach to IP compares. Here's what we found out.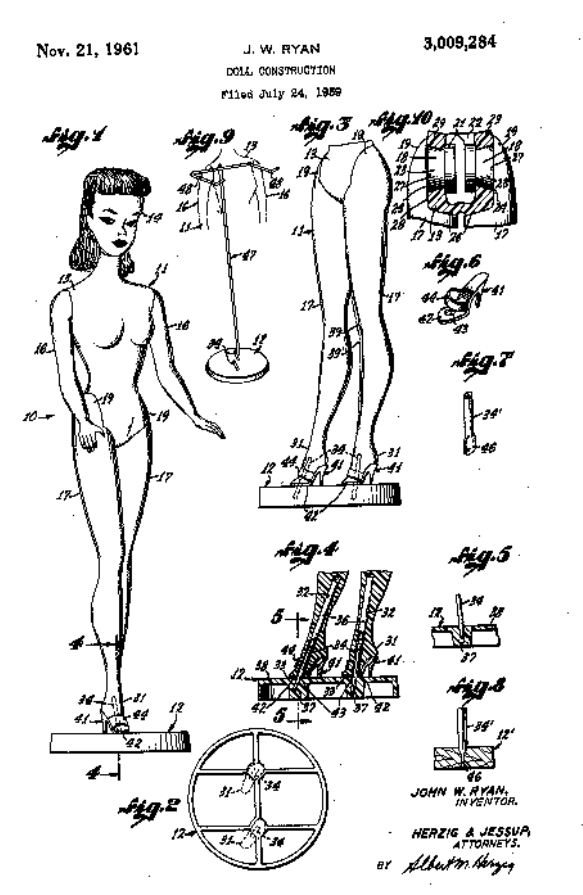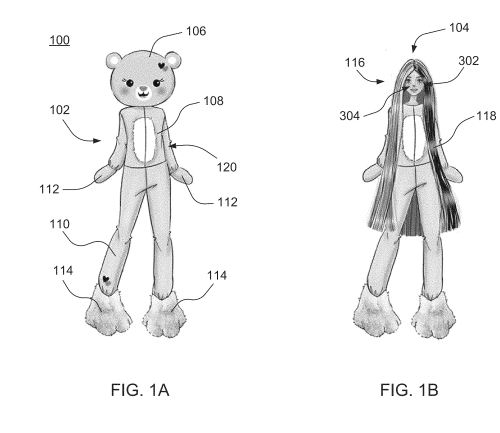 It's all in the details
From the very beginning, the trick to setting Barbie off on the right (tiptoed) foot was to patent her early – each and every plastic part of her! Did you know Barbie has over 330 patents – published from 1959 to now – mostly to protect her unique construction?
The details of the patents range from how the angle of the doll's feet and posture are designed to hold her upright when displayed and stored. They also delve into the specifics of materials, which were intended to be durable and affordable for mass production. The latter were unique to Barbie because she was designed to be interacted with. This level of detail was crucial to setting Barbie up as a collectors' item and protecting her physical image from copycats in the long run.
Some (mostly hair related) Barbie patents we found interesting:
Ken's hair style (USD689965)
Eyelash-simulating rooted fibre (US3411235)
Changeable-shape hair piece and method of styling (US3955587)
Winking apparatus (US4424644)
Doll simulating yoyo play (WO200108774)
Doll having spinning light supporting belt (WO200268080)
Hair-styling doll head having colour-change hair crimper (WO2004108240)
Doll responding to human breath such as caused by whispering, speaking, singing, or blowing (WO200424276)
A stand that generates electrostatic charge to make the doll's hair move (US9205342).
So how does this relate to science patents?
The same applies when it comes to securing IP for scientific research. When we have strong IP, our scientific ideas are protected from competitors, and this helps us to attract and secure research projects, partners and licenses, and open up commercialisation opportunities.
When we embark on a new project or invention, we do our homework and run patent searches for activity across the research landscape. We look for the fine details to protect; the characteristics unique to our innovations. And if we find it has been done before, we search again for gaps where our researchers can change the course of their project, innovate and differentiate.
Take one of our big-name innovations, V2 Foods. We conducted patent landscape searches throughout this project's lifecycle and into the product's new life on Hungry Jack's burgers and major supermarket shelves.
Our detailed searches on flavour and texture have helped the company to monitor innovations in plant-based meat as this industry continues to soar. The results have identified no-go innovation zones, and also space in the market where new CSIRO research projects have continued the scientific pursuit of the 'meatiest' meat-free burger.
V2 Foods have now secured at least three patents in this space, maintaining their unique hold on those desirable traits to keep competitors at bay.
In it for the long haul? Keep searching!
Patents aren't something we can file and forget. Continuous landscape searching and careful IP strategising is key to lifelong success for our innovations.

After all, the aims of a research project can look very different at the start of a project to where it might end up as a commercialised product in five or fifty years.