Hear first-hand what spending your summer at CSIRO's Data61 is like from three of our vacation students.
Taj Wedutenko, Olivia Dry and Cedar Lett are part of a cohort of 50 undergraduates working alongside our world-leading researchers to tackle some of our most pressing digital challenges. 
Entomology meets cutting-edge technology 
Taj and Olivia have made some interesting new friends with us so far… most of them have a lot more than two legs.  
They are extending on the work of Dr Chuong Nguyen and colleagues, who developed a prototype[Link will open in a new window] to create realistic 3D models of insects.  
Digitising biological specimens in 3D can help safeguard valuable and fragile specimens. It can also improve the accessibility of data for species identification, discovery and biosecurity. 
However, the original prototype required a lot of manual fiddling, limiting the scalability of the solution.
Finding a needle in a bug stack
A Bachelor of Mechatronic Engineering and Physics student at the University of Sydney, Taj is exploring using a robot arm to do some of the not-so-heavy lifting.  
"Insect specimens are typically attached to pins, held in metal drawers. My project involves programming a robot arm with a camera attached to it to be able to detect and pick up individual insects by gripping the pin," Taj said.  
"The robot then needs to be able to load the specimen into a separate machine or rotate it in front of a camera to capture the images required to construct the 3D model."  
The machine is where Olivia comes in. She studies Mechatronics and Biological Systems Engineering at the Australian National University. Over the summer, she's been designing and implementing a new imaging system to help automate aspects of the lengthy digitisation process.
"The idea is that all you have to do is load specimens into the machine, maybe adjust some camera settings, and the machine will do the rest without the need for supervision," she said.   
 "The earlier designs involve a lot of effort in preparing one specimen for scanning. Hopefully, this will reduce the time needed to digitise biological specimens by loading multiple specimens at once, simplifying the process and freeing up researchers' time.  
"The design is also made from 3D printed parts and accessible electrical components to make it easier to reproduce and use."  
Maintaining machine-patient confidentiality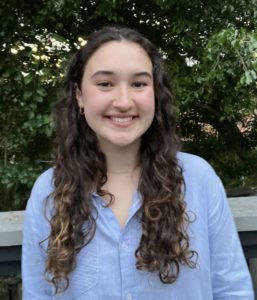 While Taj and Olivia are helping to unlock more data through digitisation, Cedar Lett is spending her undergraduate program ensuring patients' sensitive data remains private.  
Machine learning is increasingly being used in healthcare to delve into new depths of understanding, such as improving the accuracy and speed of diagnoses. Cutting-edge algorithms can find patterns in medical data that indicate a particular disease or anomaly.  
While this presents some exciting opportunities, it also comes with risks. This is because training machine learning models requires vast amounts of patient data.
Cedar is working on a model which protects and preserves the privacy of patients' personal information, while maintaining high accuracy.   
A 'full body' experience  
As a clinical science major, healthcare is right up her alley. But Cedar describes this new foray into computer science as a "full body experience". 
"I'd never coded before this and now I know Python. What a great skill, and with the hands-on approach the project requires, this studentship has provided me the opportunity to learn." she said.  
"Under the thoughtful and insightful guidance of Dr M.A.P. Chamikara[Link will open in a new window], I am learning advanced research and science communication techniques, in a supportive environment which fosters personal growth in not just my career but life as a whole. 
"Being able to manage and work with data is not just computer science any more. Data is everywhere, in every discipline. I'm loving learning more about it and want to incorporate this sort of work into my future." 
Cedar is from Grafton in regional NSW. She is one of two Indigenous vacation students[Link will open in a new window] who have been supported by Data61 to participate in the Pawsey Supercomputing Research Centre's Summer Internship Program over the past two years.  
"Coming from an Indigenous background has inspired a desire in me to help Indigenous communities where there are enduring gaps in lifespan and other key health measures," she said.    
"It's important to me that everyone can experience good health and well-being."