Since November, Data61 have been lucky enough to host 40 high-achieving science students through CSIRO's Undergraduate Vacation Studentship[Link will open in a new window] program.
When you think of summer uni break, the brightest young tech talent working to solve the country's greatest challenges may not be the first thing that springs to mind. But for these young guns, that's exactly how they've been spending their holiday.
Over the past 8-12 weeks, our Undergraduate Vacation Studentship participants have been immersed in real projects with real impact, supervised by some of Australia's leading science and tech experts. From thwarting hackers to designing mixed reality experiences, the projects underway are as diverse as the rapidly expanding skillsets of this impressive bunch.
We caught up with three of these rising STEM stars to find out what they're working on.
Caitlin Ramsay, 21, Bachelor of Engineering and Science at UNSW
Caitlin is working with our world-leading cybersecurity team to identify what factors may deem someone more susceptible to phishing emails.
Studies previously conducted in this space have suggested individual differences like impulsivity or neuroticism might predict vulnerability to email scams. Caitlin is using machine learning to test this, and improve our understanding of phishing scams, which cost Australia $3.8 million[Link will open in a new window] in 2021 alone.
"The end goal is to inform companies about the factors or types of people they should look out for within their organisations," Caitlin says.
"This will help them potentially target security programs or educational resources to help avoid an attack.
A bioinformatics major passionate about ecology, Caitlin has embraced the opportunity to explore the unfamiliar field of cybersecurity. Under the supervision of Data61 cybersecurity experts[Link will open in a new window] Dr Tina Wu, Dr Kristen Moore and Dr Marthie Grobler, she is working towards publishing a scientific paper for the first time.
"The studentship is quite independent. We have a daily meeting and I'm very in control of how I want the project to go. I've really enjoyed the freedom of that," she says.
"My favourite thing about this experience has been working on something that might actually be beneficial in the real world."
Caitlin is a proud Mununjali woman, originally from Yugumbeh land in Southeast Queensland. She believes boosting diversity in tech is a sure-fire way to improve problem-solving.
"People from different backgrounds think differently. If you get a whole bunch of different perspectives in the room tackling a STEM problem and one angle isn't working, a diverse team might be the key to finding the solution."
Lachlan Blennerhasset, 30, Bachelor of Computer Science, RMIT
Lachlan is exploring his interest in computer graphics and AI through the Undergraduate Vacation Studentship. He's been working at the Data61 Mixed Reality Lab[Link will open in a new window] in Clayton on an integrated scene management system that offers visitors and potential clients an interactive, immersive virtual tour of the lab and team's capabilities.
"If you come to visit the Mixed Reality Lab, you'll walk in and they'll put an Augmented Reality (AR) Microsoft HoloLens headset on you and you can show yourself around," he says.
"My goal is to produce an experience that helps someone realise the features and possibilities of augmented reality, including the potential applications it has in industrial and academic settings."
https://youtu.be/qe37ziPUcFwLachlan demonstrates how to interact with virtual objects in mixed reality in the Clayton Mixed Reality Lab
Lachlan recently made the shift from civil engineering to computer science.
"The move was about leveraging the innovation that's coming from technology. I was seeing a lot of exciting advances coming from new software and really wanted to be a part of that," he says.
From bolting arms on robots to driving them in the lab, the Studentship and mentoring from supervisors Matt Bolger and Damien Watkins from the Computational Software Engineering and Visualisation Team has given Lachlan more experience integrating hardware elements into augmented reality.
"I would recommend the summer internship program to students who are looking to really gain access to a lot of leading-edge technology. There's not many other places around the country where you can get hands-on with this stuff."
Reena Zelenkova, 20, Bachelor of Biomedical Science and Computer Science, Monash University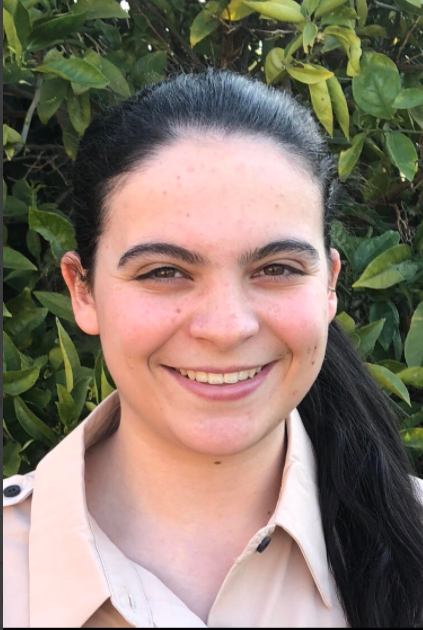 Reena Zelenkova is hoping to one day forge a career at the intersection of biomedical and computer science. Her project has seen her working on a new machine-learning technique to help stop biometric hackers in their tracks.
The project aims to improve the detection of 'poisoned images': pixel modifications like filters used by attackers to trick face recognition software.
With swathes of sensitive personal and institutional data now protected using biometric locks, this kind of attack poses a significant threat to cybersecurity.
"We are trying to create a deep learning neural network that can differentiate poisoned from authentic images," Reena says.

"We can then add this to the face recognition model, so an attacker can't compromise its security."
Reena is working under supervisor Dr M.A.P Chamikara and alongside fellow student Jack Swallow on the project, which they hope may apply to commercial face recognition algorithms one day.
She says being thrown in the deep end has allowed her to grow.
"The Vacation Studentship really allows you to fully dive into the research process. It's not just running experiments, but also writing papers and looking into scientific communication.
"Developing those skills over a few weeks has been incredible in comparison to what I would usually learn from a textbook."
In the future, Reena hopes to apply some of these skills to a career in industry.
"I definitely want to find a way to use tech to help people in terms of healthcare. There's so much power and knowledge in data and potential for it to be applied to improve lives."
Interested in becoming a Summer Vacation Student at CSIRO's Data61? Find out more here.