Key points
CSIRO Total Wellbeing Diet has easy recipes to help you maintain a healthy diet during winter.
Eating with the season is great for flavour and nutrition, as well as affordability.
This Moroccan-spiced pumpkin soup is healthy, delicious and seasonal.
Winter makes us crave comfort. Nothing beats reaching for your favourite foods during the cold months.
We asked our Research Dietitian Megan Rebuli for her tips to making healthy, nutritious choices that can keep you well over winter.
Soup-erb time for healthy foods
Megan says keeping an eye on nutrition over winter is the key. She recommends getting good doses of vitamin C, zinc, vitamin D, calcium, omega-3 fatty acids, fibre, antioxidants and carbohydrates.
"Getting good doses of Vitamin C and zinc will help support your immune system," Megan says.
"You will find Vitamin C in citrus fruits, capsicum, and broccoli. Zinc is in foods like red meats, pumpkin seeds, and legumes."
Other foods to stock up on:
Vitamin D and calcium for your bone health due to the limited sun exposure during winter. Calcium is found in dairy and fortified dairy alternatives such as cow's milk, yoghurt, cheese, and fortified plant-based milks. Vitamin D is a little bit trickier to find in food – boost your intake with mushrooms, salmon, and egg yolk.
Omega-3 fatty acids are to support brain health. These can be found in salmon, chia seeds, and walnuts.
Fibre is for digestive health and found in wholemeal bread, barley, and veggies.
Carbohydrates for energy, found in whole grains, legumes, and root vegetables like potato.
Antioxidants from colourful vegetables and fruits like pumpkin, berries, and leafy green vegetables.
Pumpkin up your local produce
Winter fruit and vegetables have the nutrition we need, so try to eat what is in season. Seasonal foods will likely be more affordable than off-season foods, plus it's great for the local economy.
"Shop locally for foods grown in your region will be at their freshest and most flavoursome soon after harvesting," Megan says.
"Buying and cooking with produce that's in season means it will often be lower cost due to the abundant supply. It pays to support our farmers who keep foods on our table."
Give them pumpkin to talk about
This Moroccan-spiced pumpkin soup contains healthy fats and oils, vegetable and fruit. It can be adapted to include your choice of protein.
Serve with a side of beef or lamb and some green veges for a boost of iron, zinc and Vitamin C to help your immune system through the winter months.
Fun fact – pumpkin is actually classified as a fruit!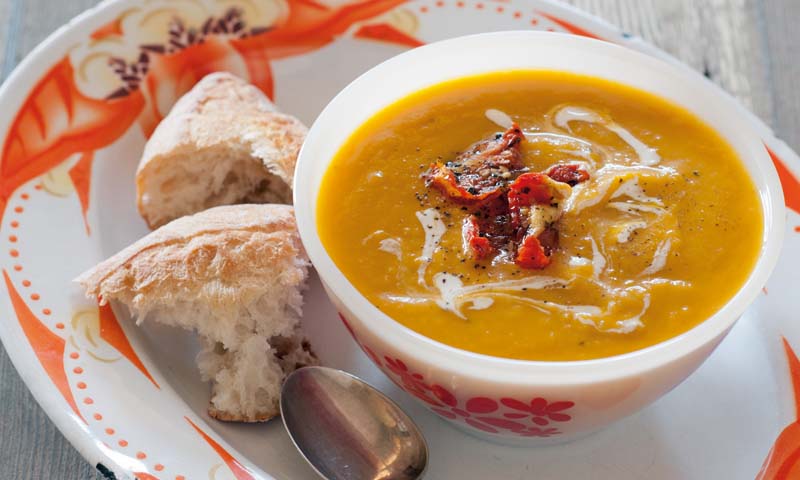 Moroccan-spiced pumpkin soup
A sweet, spicy twist on classic pumpkin soup. Serve it with 100 g cooked fish per person for a satisfying lunch.
Makes four serves
Olive oil, 1 tablespoon
Onion, any type, 1 medium, coarsely chopped
Garlic, 2 cloves, crushed
Moroccan seasoning, 1 tablespoon
Pumpkin, any type, 800 g, peeled, seeded and chopped
Parsnips, 2 chopped
Orange juice, 300 ml
Chicken liquid stock, salt reduced, 310 ml, or vegetable stock
Greek yoghurt, low fat, 80 g
Sundried tomato, 12 piece(s), drained well
Ciabatta, 4 slice(s), or other crusty bread (to serve)
Method
Heat the olive oil in a large heavy-based saucepan over medium heat.
Add the onion and garlic and cook, stirring often, for 5–6 minutes or until softened.
Add the spice mix and cook for 2 minutes or until fragrant.
Add the pumpkin, parsnip, orange juice and stock, stir to combine, then bring to simmering point.
Reduce the heat to low–medium and cook for 15 minutes or until the vegetables are very tender.
Puree the soup in a blender or food processor, or in the pan with a stick blender, then return to the stove to heat through.
Season with salt and pepper and add a little more stock or water to thin the soup, if desired.
Divide the soup among warmed bowls, top each with a spoonful of yoghurt and the tomatoes, then serve with bread from your daily allowance.
CSIRO has licensed the CSIRO Total Wellbeing Diet to Digital Wellness for the development and management of the Total Wellbeing Diet online program, in collaboration with the Glycemic Index Foundation.