Key points
The world needs to produce more protein, from more sources and in more sustainable ways to feed a growing world.
Value-adding and meeting this demand could add $13 billion to the Australian economy.
Key to this is creating new, high-tech protein companies which can take products to market more effectively.
This is a race, but it's not a competition.

That's according to our Future Protein Mission lead, Dr Crispin Howitt, who is spearheading Australia's efforts to meet the world's growing protein needs.

"The world needs to produce more to feed everyone in 2050. We're not going to be able to do that if we keep going about food production in the same way," Crispin says.

There's essentially no new agricultural land available to grow the extra food needed to feed the world's growing population, which is set to hit 9.7 billion by 2050. Add to that challenge the effects of climate change on food production and a growing middle class seeking to eat more protein.
A mission to sustainably produce more protein
Our Future Protein Mission launched in 2021. It is advancing the science and tech to derive more from existing protein sources – meat, fish, poultry and plants – and inventing new products to complement them.

"We're looking at a whole range of things that we can do differently," Crispin says.

For example, we're working with Meat & Livestock Australia (MLA) to get the most out of lower-value cuts of red meat.

"We've developed a process where we can utilise these to make a white, soluble, tasteless, high-protein powder that can be added to different foods or drinks."

Our foodies have taste-tested the powder. Some have added it to chocolate-coconut balls, others to carbonated water. This form of protein can pack a punch in many guises. Such innovations will not only make more protein available to more people. They will also help reduce waste and realise greater value for producers. For example, it's estimated that just 20 per cent of an animal's carcass makes up 80 per cent of its total value. Much of the remainder is considered a byproduct with low value.

There's tremendous protein value as well as increased financial return if we can upcycle this to higher value.

Australia's Protein Roadmap estimates that $13 billion in additional value could be unlocked for the Australian economy by 2030, if we supercharge this protein highway. Our Company Creation team is travelling in convoy with the Future Protein Mission to make it happen.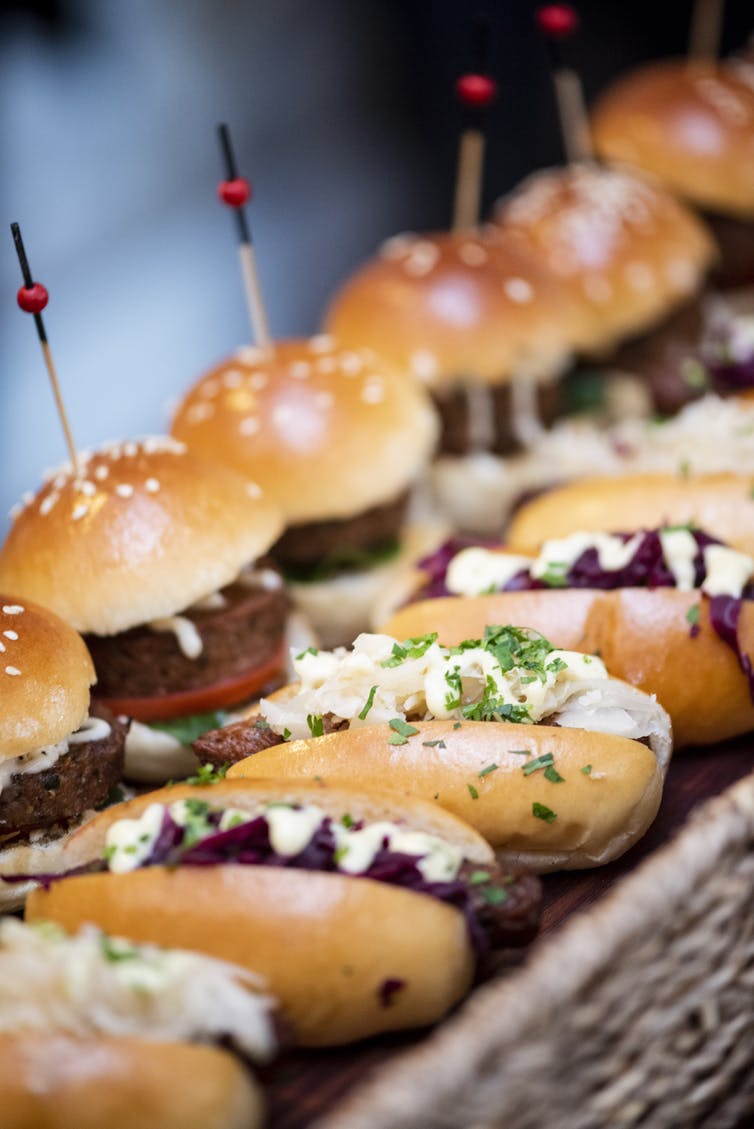 Taking inspiration from earlier success
The Company Creation team is led by Dr Dean Alle, a long-time entrepreneur and angel investor. It aims to leverage innovative CSIRO science to spin out new companies in the agriculture and food sector more effectively.

"Our venture capital arm Main Sequence really led the way on how to do deep-tech science investment in Australia," Dean says.

Main Sequence was established in 2017 to invest in science and tech tackling six global challenges. It has since funded dozens of successful startups.
One of those success stories is v2food. Main Sequence and founder Jack Cowin's Competitive Foods Australia were early investors in the complementary protein company, which was built on our science.
After the company launched it took just 10 months for the first plant-based meat alternative burger to be dished up at Hungry Jack's and is now on supermarket shelves in a variety of products.
Bringing together the pieces of venture science
We call this robust investment model 'venture science'. It involves:
identifying a challenge and market opportunity
matching the science to tackle it
introducing a pathway to market via an entrepreneur
investing in it to create a new company.
Venture science funnels a range of promising ideas down a meticulously structured pipeline. This includes research and development (R&D), exploration, market research, testing, iterating, de-risking, product-market fit, proof of concept and finally investor nurturing.

Dean says failure is part of that process. Many ideas won't make it through the funnel – but the ones that do have proved themselves roadworthy.

"We are doing the incubating and validating the technology before we go down the investment route," Dean says.
That means less risk as companies have already had a rigorous science and business work-up before they're launched. From an investor perspective it's really efficient.
Dishing up Australian protein products for the world
Our Future Protein Mission continues to cast its net widely to innovate on sustainable protein for Australia and the world.
As well as v2food, our food innovation science has led to vegetable snacks and powders from Nutri V that also help reduce food waste. New animal-free dairy products from Eden Brew will soon be on their way to market, with dairy co-op Norco a major shareholder. We also created startup Nourish Ingredients, which is creating synthetic fats to help bring meatier flavours to plant-based proteins.
We now have several different opportunities in the pipeline ready for investment, all with the potential to have a global impact around food and nutrition.
"We've started out by focusing on precision fermentation, a high-tech technique for creating new proteins," Dean says.
"One of our proto-ventures is Eclipse, a food technology startup that sustainably creates nutritional proteins. It's taken two years to get the market research and validation, the science and business plans and the industry alignment done."
Crispin says our vision is very much to set these proto-ventures free to go and change the world, growing Australia's innovation ecosystem in the process.
"But we can't build a portfolio of future-protein companies from startups alone," Crispin says.
"We're also working with existing, medium and large companies as a path to impact."
Because the race to nourish the world is a big challenge beyond the realms of any one organisation. And it's going to take all types of protein – well seasoned with innovation – to get there.