Australia's marine estate is big. Really big.
Our Exclusive Economic Zone is the third largest in the world, and is made up of 8.2 million square kilometres off Australia and 2 million square kilometres off the Australian Antarctic Territory.
Antarctica is an important frontier for Australia and Australian research, not only for our national interests but also globally in leading the contribution to greater understanding of the Earth's climate systems. Critical to this are studies of the interaction between Antarctic ice sheet and surrounding ocean so that we better understand the processes that have shaped our climate in the past and will continue to do so into the future.
For this reason, evidence that suggests one part of the Antarctic ice sheet is melting faster than others is of great interest to Australian researchers. The Totten Glacier, the largest glacier in East Antarctica at 120 km long and more than 30 km wide, has been thinning faster than other glaciers in East Antarctica and it is only recently that scientists have presented a theory for why.
Present thinking is that the Totten Glacier is melting because of warmer ocean water intruding onto the continental shelf, similar to what is being seen in Pine Island Bay in West Antarctica. The Totten Glacier is grounded on bedrock below sea level, making it vulnerable to changes in ocean temperature and currents.
Considering the Totten Glacier alone contains an amount of ice equivalent to 6 metres of global sea level rise, researchers are eager to figure out why.
However, the interaction between Totten Glacier and the Southern Ocean during periods of warming and ice sheet retreat is poorly understood. Prior to January 2015, no oceanographic measurements had been made within 50 km of the Totten Glacier.
One of the reasons we don't know much about this area is that the waters of the Southern Ocean off Antarctica are remote, wild and unforgiving. Scientists undertaking research in this area require an extraordinary type of ship, one that can go to sea for extended periods to remote locations while supporting multidisciplinary research and intrepid research teams.
Luckily, Australia has just such an extraordinary ship in the Marine National Facility (MNF) research vessel, Investigator.
A tried and tested cold water research vessel
Commissioned in 2014, Investigator is an advanced, multidisciplinary research vessel that has been built for capability and endurance. Investigator can travel up to 10,000 nautical miles in a single voyage, ranging anywhere from the equator to the ice edge. The ship platform offers previously unavailable flexibility for up to 40 scientists and support staff, with the ability to accommodate a wide range of user scientific equipment, in addition to having a suite of advanced equipment and laboratories built in.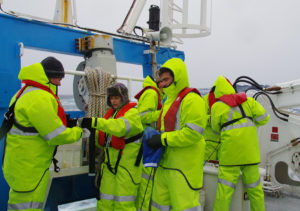 Investigator is now a tried and tested veteran of cold water operations, proving itself highly capable in these conditions. Three cold water voyages have now been completed deep into the Southern Ocean, venturing as far as 67 degrees south, and demonstrating its capability to reach the edge of the Antarctic sea ice. These voyages enabled studies of hydrothermal activity and ocean iron processes around the remote Heard and McDonald Islands, and monitoring of ocean change and variability along 170 degrees west from the ice edge to equator, among other research into oceans, atmosphere, geology and biology of the region.
Unlike an icebreaker, Investigator deliberately avoids coming into contact with sea ice due to the vessel's exposed gondola that houses high tech acoustic instruments, and its unprotected propellers and rudders. But while the ship might stop at the ice edge, the research doesn't. Investigator's suite of advanced technology can map to full ocean depth, and a new generation weather radar can collect information within a 150 km radius around the ship and up to 20 km into the atmosphere.
Totten Glacier voyage 2017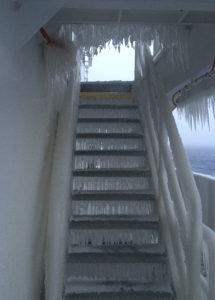 All this means Australia's research vessel is primed and ready for a voyage to the Totten Glacier to bring back some answers about what is going on down there. In January 2017, Investigator will depart Hobart to make the 6400 km round trip to study the interaction between the glacier and the Southern Ocean.
This may see the ship going further south than it has yet been and beat its previous 67 degree south mark.
The international team of around 40 scientists that will be on board will be utilising the ship's advanced technology to collect information about the Totten Glacier's past so we can better understand what lies ahead for the glacier and the Earth's climate system.
The entire voyage can be followed via CSIRO social media channels using the hashtag #RVInvestigator.