In August 1943 Japan was steadily advancing in the Pacific. A year earlier, the first ever attack on Australian soil occurred. People were living in constant fear, with good reason. On 6 August 1943, two Japanese aircraft opened fire on 2,500 ton steel merchant ship SS Macumba and her escort HMAS Cootamundra. Despite anti-aircraft fire from both ships, Macumba's engine room was hit. Three crew were killed in the attack. The body of Chief Engineer William Alfred Lane was never recovered. Survivors were taken aboard the escort and Macumba was left to sink. While the location of the attack was known, no previous search had been able to discover the wreck. Until now. 74 years on, intrepid researchers have solved this maritime mystery.
The discovery was made by our Marine National Facility research vessel Investigator early on Wednesday morning during a targeted survey in the Arafura Sea off the Arnhem Land coast.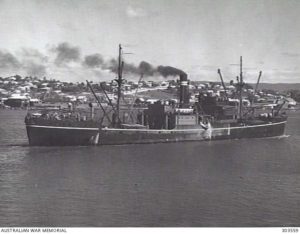 Marine National Facility voyage manager Hugh Barker explained that the team had nearly given up hope of finding the ship.
"We discovered the wreck in the middle of the night after about 10 hours of searching, which was lucky as we only had a couple more hours available for the search." Hugh said.
After noticing unusual features on the seafloor on the edge of their search area, the team did an extra wide turn outside the target area and sailed over the wreck.
"It was a special night for all on board and we are so pleased to find the final resting place of Macumba." Hugh said.
40 metres under water, upright and relatively intact, Macumba is now serving as an artificial reef, providing habitat for a range of marine life.
The wreck was mapped using the ship's sonar systems, and then a specialised drop camera was lowered into the water to photograph the site, capturing some incredible footage of the wreck and marine life around it.
The search for SS Macumba was a collaborative effort between the CSIRO Marine National Facility and the Northern Territory Government.