Is your social media feed flooded with vaccine selfies aka vaxxies? Or have you posted your own after getting the jab? Hot tip: it's a good way to use that 15 minute waiting time after getting the vaccine.
At CSIRO, we know that getting a vaccine is one of the best protections we have against COVID-19.So, we're sharing the latest science and trusted information so you can make informed decisions.Check out our two blogs Why get vaccinated and COVID-19 vaccines are effective against Delta variant.
From Hamish Blake to Michelle Obama, celebrities are sharing their vaccine selfies and getting behind the cause. We're also sharing our vaxxies to show you just how proud we are to be helping protect the community by getting vaccinated.
Sharing (vaccine selfies) is caring
Dr Larry Marshall - Chief Executive
It's hard to watch the growing case numbers each day, but great to see growing COVID-19 vaccination rates across Australia.
Now 67.8 per cent of eligible Australians have had their first dose and 42.6 per cent are fully vaccinated (based on 13 September data via Department of Health).
I recently had my second AstraZeneca jab and I'm very grateful. Furthermore, I'm so proud CSIRO tested this vaccine as part of a global scientific effort.
Vaccination is our way through this pandemic and how we will protect our friends and family.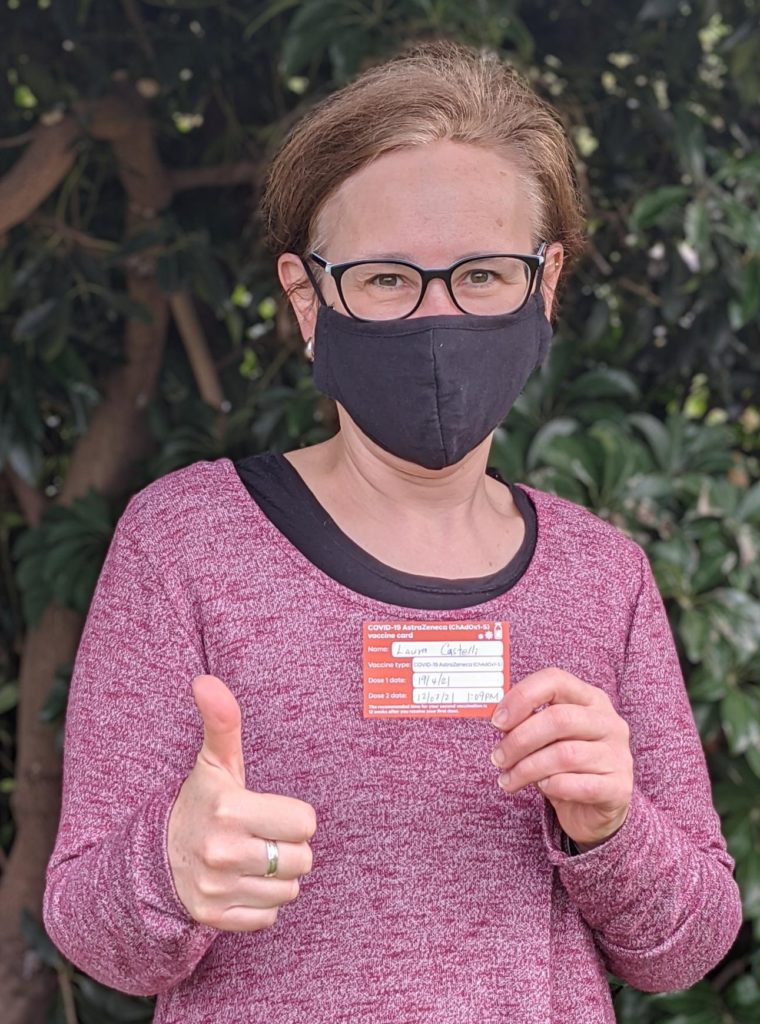 Laura Castelli - Senior Experimental Scientist
As a CSIRO scientist, I took up a secondment to CSL/Seqirus earlier this year to assist with quality control testing on the AstraZeneca vaccine, which was being manufactured there.
As I was working on vaccine production, I got 'essential worker' status, so I was able to access a vaccine as soon as practical.
I recognised the batch number on the vaccine as I had worked on the quality tests for that batch and was quite familiar with it.
After the first jab, I felt a bit unwell for 24 hours, but nothing too serious! I was fine after my second one.
Alana Nixon - Communications Advisor
I managed to book my appointment in July via Service NSW. I discovered my appointment would be at a former Bunnings site. Although, its new name is the 'Belmont Mass Vaccination Centre' but the hallmarks of Bunnings are still there.
Because the site was a former Bunnings, car parking was right at the door - a big plus for us Novocastrians. It took just over a month to turn the site into a medical facility with a socially distanced waiting area and amenities. A great effort in my opinion.
I was eligible for Pfizer and both of my appointments ran very close to time. The entire system from start to finish was very efficient. My QR code was my ticket through to each stage of the process.
We'd love for you to join us in sharing your vaccine selfies too. Be sure to use the hashtags #ILoveScience and #CSIRO.
Read more about our work in the COVID-19 space.