Key points
We support Indigenous-led businesses to undertake research and development projects with our researchers.
'Deep tech' start-ups often combine traditional knowledge with cutting-edge scientific techniques.
Collaboration can give Indigenous start-ups and SMEs a competitive advantage and help commercialise their solutions.
When it comes to unique synergies, this one is hard to beat.
CSIRO's Kick-Start program is pioneering collaboration between Indigenous-led businesses and CSIRO researchers. These small to medium-sized businesses embody the spirit of 'gathering together,' shaping an Australia that benefits from Indigenous knowledge to craft a more sustainable future.
Say hello to ventures like Ochre Sun, who are not just formulating sunscreens; they're echoing centuries of traditional wisdom. Simultaneously, initiatives like Uncle Charlie's Tastes of Country infuse flavours and stories of the land into every bite.
Indigenous innovation for an inclusive future
Pushing scientific and technological frontiers requires significant research and development (R&D) and investment. This can mean the difference between whether or not a company brings its products or services to market. Through CSIRO Kick-Start, a growing number of Indigenous-led deep tech start-ups are collaborating with our scientists on R&D projects. We help grow and develop Australian businesses with funding support and access to CSIRO's research expertise.
October is Indigenous Business Month and its theme, 'To Gather, Together', reinforces the idea that 'gathering' can foster a vibrant network of connections, information sharing, ideas and opportunities. 'Gathering together' plays a pivotal role in cultivating relationships, a cornerstone on which we firmly stand.
Here we've gathered some examples of Indigenous companies collaborating in CSIRO Kick-Start.
Ochre Sun: embedding traditional knowledge in skincare
Alana Kennedy is a proud Waanyi Kalkatungu woman from Mt Isa and founder of Ochre Sun. Her company produces a line of high-protection sunscreens.
Incorporating ancient wisdom into modern skincare is important to Alana. Aboriginal and Torres Strait Islander peoples have always prized the medicinal properties found within native flora. And Alana is committed to helping preserve this knowledge. Ochre Sun's sunscreen formulas use botanicals based on traditional knowledge of their skincare and wellbeing benefits. The ingredients themselves are ethically purchased directly from Indigenous growers and Traditional Owners, who sustainably harvest the plants on Country.
"Native Australian plants carry immense potential and wisdom that has long been overlooked in mainstream sun and skincare," Alana said.
"The significance of our vision goes beyond skincare. There is a rhythm in Country – ancient rhythm and remedy gifted to us in the cultural way, and our purpose is to harness bush medicine and gift it to the world; to harness raw plant potential to benefit our bodies. Everything we need, we already have."
Supported by CSIRO Kick-Start, the company is working closely with our Biomedical Manufacturing researchers. They're exploring the biological properties that give the native plants their therapeutic effects. They're also developing advanced extraction methods for these bioactives. Bioactives are chemicals, chemical molecules and microbes (microscopic organisms) that have some biological effect on our bodies.
Ochre Sun aims to increase awareness of Indigenous culture by sharing the wellbeing benefits of native plants with the world through an expanding product range in skincare. They're also maximising the economic benefits for Indigenous communities throughout the development of an innovative, sustainable and equitable Indigenous supply chain.
Uncle Charlie's Tastes of Country: sharing snack food stories
Uncle Charlie's Tastes of Country is a gourmet snack food brand. It was created by father and son duo Mark and Zane McMillian, and named after Mark's uncle, Uncle Charlie Evans. Uncle Charlie was a Wiradjuri elder, drover and movie buff. The company's business name, Miimi and Gambang, means sister and brother in Wiradjuri language.
The company currently produces a range of sustainably produced popcorns using flavours from Australian native foods and botanicals. The art on the packaging shares the stories of these ingredients and the Aboriginal and Torres Strait Island Nations from which they are sourced. Five per cent of the price of each product is distributed to the Aboriginal or Torres Strait Islander Nations where each of the raw ingredients come from.
Uncle Charlie's is collaborating on a Kick-Start project with researchers from CSIRO's Data61, the data and digital specialist arm of Australia's national science agency. Together, they're developing advanced tracing methods to enhance story sharing. They also want to ensure fully traceable and verifiable economic returns to those Nations contributing ingredients and knowledge to each batch.
Outback Academy Australia: nurturing Indigenous farming ventures
Outback Academy Australia (OAA) is a majority Aboriginal-led organisation. They work with Aboriginal and Torres Strait Islander farmers across Australia to scale and commercialise alliance-based agricultural and horticultural regenerative farming and related businesses. This leading initiative of OAA is called Follow the Flowers.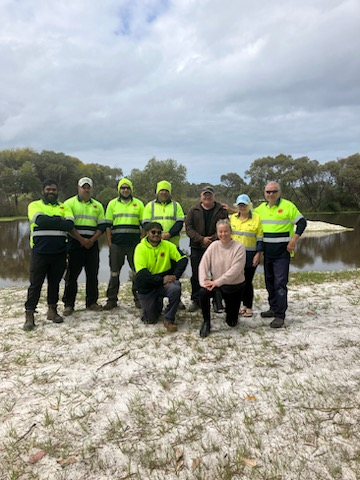 There is a growing market for authentic Indigenous agricultural and horticultural products. This includes Australian bush foods and botanicals. This is an industry which is overwhelmingly dominated by non-Indigenous businesses – only around one percent of the industry is Indigenous-owned.
Through Kick-Start, OAA is working with CSIRO's Biomedical Manufacturing research team. Another partner is a leading, global skincare company. Together, they're working to analyse the chemical makeup of a native botanical to develop methods to effectively extract and stabilise its bioactives for use in skincare.
OAA's focus is on regenerative practice. They also apply a cooperative and community asset benefit sharing model which protects intellectual property. With partners such as CSIRO, the Follow the Flowers initiative aims to enable Indigenous-led farm-based businesses to capture a significant share of this rapidly growing market. They're driving enormous and wide-ranging benefits for their communities, while healing Country and biodiversity through sustainable regenerative farming.
Regenerative farming uses holistic principles and practices to rehabilitate, nurture and enhance agricultural land management for water, soil, carbon and more.
Native Secrets: unlocking the potential of bioactives
Native Secrets was founded by Bidjara and Kara Kara man Phil Thompson and Wailwan woman Cherie Thompson. They set out to reignite old conversations and preserve deep knowledge passed down from generation to generation.
Native Secrets uses essential oils from wild-harvested Australian native plants to make natural skincare products. In this way, they bring traditional medicine practices to everyday products.
Native Secrets are working with our researchers to explore various bioactive properties. We're also exploring optimal extraction and production methodologies, such as shelf life and safety. The goal is to develop new therapeutic products based on the bioactives contained within the plants.
Harnessing Lightning: Applying Electric Fields for Crop Growth
Rainstick is a deep tech sustainable agriculture start-up integrating traditional knowledge with novel technology to improve edible crop yield. The company was founded by entrepreneurs Darryl Lyons, Maiawali man, and Mic Black, a prolific inventor and technologist.
They were inspired by the Maiawali People of central west Queensland's traditional use of a 'chuggera', a lightning stick used to direct thunderstorm activity in ceremony. Now, the team at Rainstick are applying precision high voltage electric fields to trigger growth in plants and fungi. Depending on the Rainstick 'recipe', the electrical stimulation has been shown to increase biomass of the desired plants and fungi. At the same time, it prevents the growth of unwanted moulds without the need for pesticides.
After participating in our ON Accelerate program, Rainstick are now collaborating with our Agriculture and Food research scientists through Kick-Start to further explore how tailored electric influences can be used to optimise plant and fungi growth.