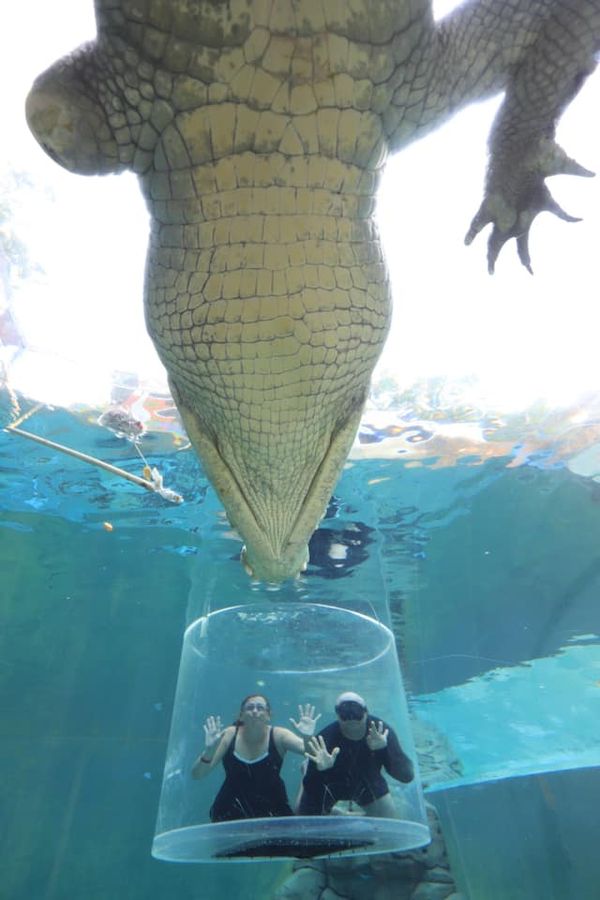 Sometimes the decisions we make are simple, like whether to face a gigantic crocodile behind, or, in front of protective glass.
When statistician Dr Petra Kuhnert and her husband submerged themselves underwater with a croc in the Northern Territory, this life-or-death decision didn't require much thought.
Other times, decisions can be complicated and involve considering many variables and possible outcomes with limited data. Complex decisions, like mapping out bushfire escape routes or optimising the resilience of crops against changing climates, can still mean life or death, and at scale.
But Petra loves solving gnarly problems. Her work with CSIRO's Data61 enables decision-makers to make fast, informed decisions under volatile and dynamic conditions.
This International Women's Day, we caught up with Petra below about how she is harnessing data and AI to improve the quality of decisions made about Australian agriculture and the environment.
Tell us about your role at CSIRO's Data61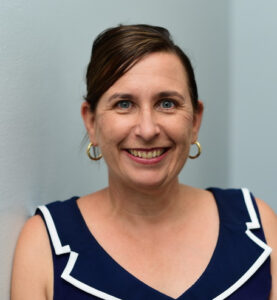 I am the Group Leader of the Statistical Machine Learning group in the Analytics and Decisions Sciences Program in CSIRO's Data61. The group consists of approximately 22 staff with capability spanning statistics and machine learning. We're focussed on developing new and innovative AI technologies to advance science in a broad range of areas. 
I also lead the Hybrid Prediction Activity in the Machine Learning and Artificial Intelligence Future Science Platform (MLAI FSP) in CSIRO, which is developing new AI technologies to allow complex environmental and agricultural processes driven by physics to be understood and used to make quick decisions. In this space I have worked on problems like wildfire progression, forecasting crop growth and groundwater modelling. I am also one of CSIRO's Research Integrity Advisors. In this role, I try to help others navigate complex research spaces around authorship and publishing.
What's your professional background?
I have a PhD in statistics and have been working as an applied statistician using AI-driven methods for the past 18 years in CSIRO. I'm passionate about developing data-driven AI solutions to assist environmental and agricultural decision-making to benefit Australia. 
What made you want to pursue a career in tech?
I'm motivated by real world problems and want to find solutions using statistics and machine learning.  I'm particularly interested in producing software and tools that can enable the uptake of an approach. My focus of late has been to ensure the science we are developing reaches decision-makers by providing them with technologies that are reproducible and accessible. As an example, I've been working for a long time trying to enhance the understanding of uncertainty amongst a wide range of decision-makers and it has been challenging at times.  The recent release of Vizumap, which won the Venables Award for new developers of open source software, allows users to visualise uncertainty on maps. It's fast becoming a "go-to" tool for uncertainty visualisation.
Is there a current project you're excited about and why?
We are doing some really cool analytics in the digital agriculture space with a PhD student that has gone on to take an Assistant Director position for Digital Earth Africa at Geoscience Australia.  The piece of AI that has been developed allows you to gain rapid insights into spatial and temporal trends of crop production using remote sensing.  We now want to go global and develop a tool that harnesses this tech and turns it into an "early warning" system that can highlight agricultural regions that might be experiencing a downturn in production and allow a more focused "drill down" to understand the causes.
Can you share an example of where a cross-disciplinary approach has led to improved models?
The MLAI FSP has been a great initiative for exploring some new ways to model really complex processes quickly. We have been developing something called "emulators".  Emulators are approximations of existing, high-fidelity models and the complex physics equations that underpin them.
These new approximations usually offer faster and simpler representations of the original model. Some existing computer simulators take days to run. Days is a long time in real-world decision-making. Emulators can increase the speed of prediction while honouring the expert domain knowledge which informed the models. In addition, they can also extend the utility of existing tools. For example, using an emulator we are now able to quantify the uncertainty of predictions made by Spark, a toolkit for the simulation and analysis of wildfires.
Understanding uncertainty is important as climate is variable. When making a prediction to inform a decision, we want to capture all of the uncertain processes due to wind, weather and so on. We can't be confident in decision-making without this understanding. As well as our emulated wildfire model, we are working towards emulators for groundwater modelling and crop growth curves.
This year's International Women's Day theme is 'DigitALL: Innovation and technology for gender equality.' What does this mean for you?
Developing tech that transforms current practice and provides a step change in the way we do things needs to happen in diverse surroundings. 
I am heavily involved with an initiative called RLadies and helped to start the Canberra and Darwin branches. R is a statistical programming language. My work here has been around giving women and gender-diverse people a voice in the coding and tech space with a vision towards building confidence to realise their unique potential and help innovate. I've found the most interesting ideas pitched and presented at events put on by Rladies possibly would not have been showcased at other venues. It's initiatives like these that really increase exposure for underrepresented groups, making opportunities equal for all.
In your opinion, what's the single biggest change that needs to happen to encourage more women to pursue careers in tech?
I think women need to see that there is a sustainable and rewarding career pathway for them in this field, particularly one of leadership. Women often wear multiple hats and keeping up-to-date with new and emerging tech and changing landscapes can feel challenging. This is particularly hard when breaks occur due to caring responsibilities.  Offering alternatives to ensure women can be competitive in these environments is important. 
How can colleagues, organisations and industries within tech better support and enable women?
By creating mentorship programs that can assist women to navigate complex situations in their place of work. For those wishing to explore leadership opportunities, allowing women to "trial" leadership opportunities and potentially shadow successful leaders in the organisation to understand what good leadership represents.
What advice would you give to women and girls wanting to pursue a career in tech?
I would say "go for it!", especially if you love solving problems and you want to make a difference.  Dare to be different and don't be concerned about your ideas being different to what is presented in the room.  Often diversity is your greatest asset.