Where other researchers watch science fiction and dream of the possibilities, Farina Riaz watches The Fast and the Furious.
Farina Riaz is a postgraduate student with our Data61 team. Her focus is on quantum artificial intelligence (AI) and its applications. Currently, she's fascinated by algorithms we need to develop to introduce driverless cars to our roads.
"How films like The Fast and the Furious depict the future encourages discussions of innovative new technologies. I'm curious to see how these applications will be truly realised. What we see in the movies should be possible in real life, maybe even in the next five to 10 years."
Farina can drive and has a licence, but she finds it distressing. Since driving requires complete attention to the road and surroundings, even a little distraction could result in an accident.
"This is another reason why I want to contribute to an endeavour that could help so many individuals and safeguard their lives by using quantum technology," Farina said.
Quantum career pathways
Farina comes from a computer software engineering background. Prior to joining us, she was a Software Quality Assurance Engineer at NERO AG (Germany) and interned at the CERN Lab in Switzerland during her Master's.
Despite the fact that there are numerous experts in related fields, quantum artificial intelligence is a relatively new subject for research. Farina counts herself lucky to have experienced mentors from many different fields at CSIRO. Working with us, she has created two cutting-edge quantum algorithms for practical application.
Dr Christie Thompson is a Senior Experimental Scientist who works with superconducting thin films for devices with our manufacturing team. Christie too loves how CSIRO enables collaboration between many different fields and specialities.
In fact, she loves it so much that it brought her back home from the U.S where she worked at the National High Magnetic Field Laboratory in Florida.
"So much of research in science tends to be just for the sake of science. You can feel like no one is ever going to read your results except for some poor grad student who must. But now I get to do research in an area which is applicable to things I'm working on.
"At CSIRO, we're in this beautiful place where we still love science, and we want to use it. That's really exciting," Christie said.
'I thought it would be too complicated'
Lizhao Song also built a quantum career while determined to find practical applications for her research.
As a postdoctoral fellow with us, Lizhao is studying millimetre-wave and terahertz device designs. They can be applied to high-speed and high data-volume wireless communication and sensing systems. They will support long-range communications between satellites and high-altitude aircraft, among other things.
"We've done some modelling for traditional communication systems, but quantum integrated device design is totally new to me," Lizhao said.
Lizhao thrives on the sense of discovery.
"When you achieve something or when you design something no one has done before it's really wonderful. You see your paper published, you present your work in a conference and you receive this great recognition. It's quite exciting."
Lizhao had to overcome her own doubts to follow this career path.
"When I was a child, I didn't expect to be a scientist or researcher because I thought it's too complicated and too hard for me," she recalled. It wasn't until she made her way to Nanjing University, that she began to see the potential of a career in science.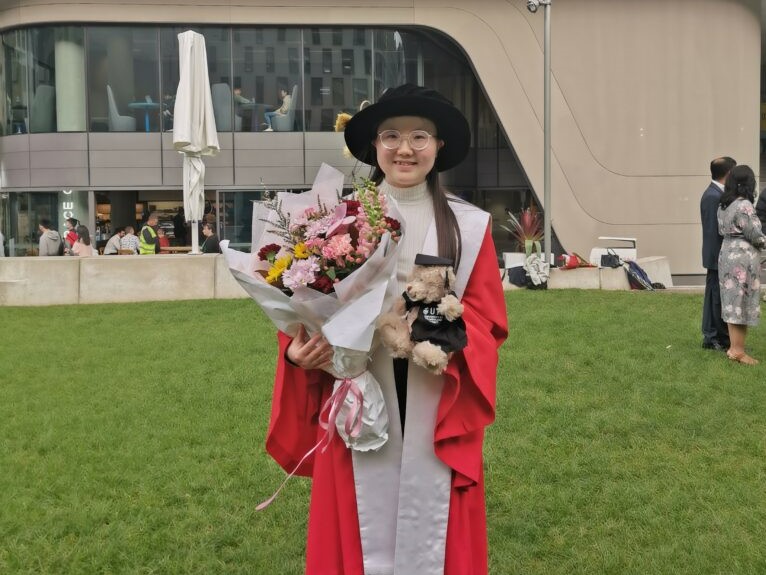 Battling doubt, dreaming big
Lizhao is on very familiar terms with self-doubt.
"There's a lot of pressure with graduation and publishing papers. Sometimes, you put in a lot of effort, and it doesn't result in a good paper. Then I worry that I overrated my ability," Lizhao confessed.
But she understands that dealing with failure is key step on the road to success in building her quantum career.
"One may feel overwhelmed in the moment. After that though, you must remember that you have to keep trying. There are always good and bad things. If you are trying hard, then if there is a bad thing now, there is a good thing waiting for you," Lizhao said.
Find the science you love
Farina believes women are naturally gifted problem solvers and multitaskers. It's why she wants to see young girls encouraged to follow their goals, especially in science, technology, engineering and mathematics.
As one of three sisters, all of whom have followed careers in science, technology or engineering fields, Farina is convinced young girls need to be encouraged to pursue their dreams.
"Parents play an extremely significant role. They must demonstrate to their daughters that they can make decisions and solve problems," Farina said.
Christie too sees the immense value of signalling to young girls that there's room for them to have a quantum career – or anything else they set their mind to. She counts herself privileged to have had family, teachers and work mentors who supported her every step of the way.
Recently, Christie spoke at science fair day in a girls' school and was excited to meet a whole cohort of young students with cool things to share.
Her best piece of advice to girls wanting to follow in her footsteps?
"If you enjoy science, find what kind of science you love to do. I was terrible at biology and chemistry, but I really loved physics. Not every area is going to be for you. Find what you enjoy and want to keep learning more about because then you'll be excited to keep pursuing it," Christie said.