About CSIRO Future Digital Manufacturing
Renewal of sovereign manufacturing capability is of crucial importance to Australia. CSIRO is at the forefront of exploring how Industry 4.0 and its enabling digital technologies can create new opportunities in Australian Manufacturing.
By bringing together our domain experts and world leading innovations across the physical and information sciences, CSIRO is building innovative technologies for manufacturing which are digital at their core. These span from novel manufacturing processes utilising the capabilities of "digital twins", through to software tools that deliver practical Artificial Intelligence (AI) into industrial design challenges. These technologies are positioned to become an integral part of many Australian manufacturers' ambitions to be digitally enabled, globally competitive, innovative and environmentally responsible. Our goal is to see emerging technologies like ours embedded into everyday manufacturing applications, at scale, across Australia and the globe.
Industry 4.0 is a major global paradigm for manufacturing capability and functionality. CSIRO's Data61 and Manufacturing business units have positioned Industry 4.0 as a focus area. We use Digital Manufacturing as a term for the technologies, solutions and systems that enable and give rise to Industry 4.0. A key part of Digital Manufacturing is the automation of manufacturing and industrial practises using modern smart technologies such as robotics, AI and the Internet of Things (IoT).
At CSIRO we are particularly focused on digital technology within the CSIRO manufacturing strengths of:
Advanced materials
Additive manufacturing
Flow chemistry
Synthetic biology
Quantum technologies
Materials and devices for energy systems
Medical technologies
Digital Manufacturing is also about the use of advanced data and digital technologies for supply chain integration, product customisation, and the real-time monitoring and control of manufacturing processes. To accelerate our progress and best support Australian manufacturing's Industry 4.0 transition we've created our Future Digital Manufacturing investment. This is a four-year commitment by CSIRO to develop and deliver CSIRO's AI-based manufacturing technologies to innovative Australian businesses.
How our research technologies can help SMEs and innovative manufacturers
Digital disruption is impacting manufacturing as a sector and the markets into which manufacturing delivers. We are focusing on lifting its digital maturity over the next four years to drive future digital manufacturing across industry through artificial intelligence, automation, robotics, Internet of Things (IoT) and data analytics.
CSIRO has advanced capabilities in intelligent and secure IoT, Artificial Intelligence and machine learning, computational modelling and digital twinning, analytics and optimisation, computer vision and robotic automation. Future Digital Manufacturing assembles and channels these strengths into large-scale R&D projects that develop new and improved technologies for manufacturing.
Information about a selection of our projects is outlined in the following fact sheets
We are investigating how to lower the barrier to entry for Australian Manufacturers to adopt IoT, enabling them to understand their operations in greater detail enhancing safety and productivity.
Intelligent tools can guide and control robotics, and integrate advanced machine vision, situational awareness, and collision avoidance to deliver a compelling assistive and autonomous solution to complex tasks.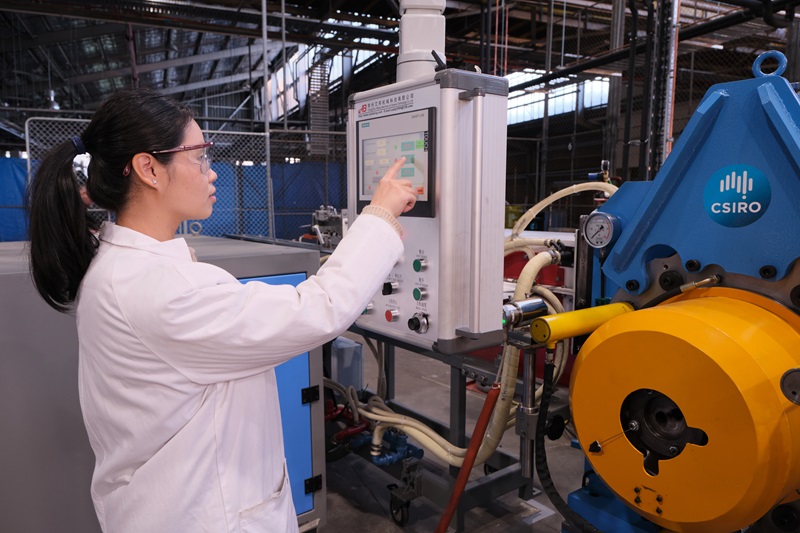 Who we seek to partner with:
To help us refine our technology vision and integrate our technologies into Australian manufacturing, we seek to partner with businesses within the manufacturing and digital technology sectors. We invite partners to work with us to guide what we create and explore the positive impact that new technologies could have for Australian manufacturers.
If you are an innovative manufacturer, an ambitious SME, or you deliver high value solutions and seek to target emerging future industries, then CSIRO is positioned to be your partner for meeting shared challenges.
For further information or to learn more about our projects and technology
Please contact
Mr Christian Ruberg
Future Digital Manufacturing Lead (Manufacturing)