Some of our gene technology research produces genetically modified products which provide innovative and unique opportunities for Australian agriculture and consumers.
CSIRO research makes use of both conventional and genetic modification (GM) approaches, with careful consideration being given to the most appropriate technique, or combination of techniques, to achieve the desired goal.
Our first focus, in line with global practice, is to adopt a conventional breeding approach. GM approaches are used where conventional approaches cannot deliver the required outcome. GM approaches are also often used in the R&D phase to understand the underlying science, which may show how a non-GM solution can be implemented.
All of our research involving gene technology is performed according to Australian legislation for gene technology, including regulations set out by the Office of the Gene Technology Regulator (OGTR). We operate within strict guidelines which ensure the safety of the community and the environment and that rigorous scientific practices are followed.
Projects with genetically modified products
More efficient cotton: The use of GM technologies has enabled us to make enormous improvements in cotton. Australia has among the highest cotton yields in the world, exporting cotton worth $2.5 billion each year. We've reduced Australian grower' reliance on insecticides and improved their water use efficiency. Currently, more than 95 per cent of the Australian cotton crop is grown from CSIRO bred varieties, which have reduced pesticide use by up to 85 per cent and herbicide use by about 52 per cent.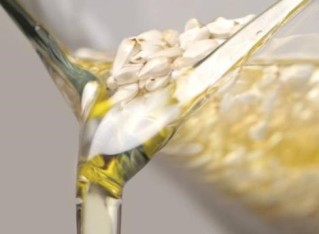 Omega 3 canola: We have developed canola plants which produce high quality oils rich in omega-3 DHA (docosahexaenoic acid). This nutrient is currently only found in beneficial quantities in ocean-based algae and the fish that eat it. DHA canola could significantly reduce the world's reliance on fish stocks while meeting the increasing demand for these healthy long-chain omega-3 oils. In February 2018 the Australian Office of Gene Technology Regulator (OGTR) announced omega-3 canola has been approved for cultivation and use in animal feed. Food uses of the Omega-3 canola have been reviewed by Food Standards Australia New Zealand (FASANZ) with approval granted for sale and use in food in Australia and New Zealand.
Industrial oil from safflower: By engineering safflower to contain over 90 per cent oleic acid, we've produced the world's highest source of oleic acid. This chemical can be used in lubricants, oleochemicals and transformer oil. In June 2018, the Australian Office of Gene Technology Regulator (OGTR) announced that GO's proprietary super high oleic (SHO) safflower had been approved for commercial cultivation.
Leaf oil: We have engineered plants to have oilseed-like levels of oil in their leaves, stems and other biomass (around 35 per cent). This could provide an economically competitive renewable alternative to petroleum diesel.
Insect-resistant cowpea: We are part of a global project to improve cowpea production through 'built-in' insect pest protection to protect crops against pod-borers. This will help reduce food shortages in African regions where cowpea is an important dietary staple.
Current field trials: Details about our current field trials of genetically modified crops in Australia are available on the Office of the Gene Technology Regulator's website.