Potatoes that don't go brown. Animal feed that's easier to digest. Safflower with high oil content. CSIRO's RNAi gene silencing technology has now been improved to result in a more stable effective molecule that will enable researchers around the world to protect plants and animals from diseases, pathogens, weeds and pest and to develop new plant varieties with beneficial attributes.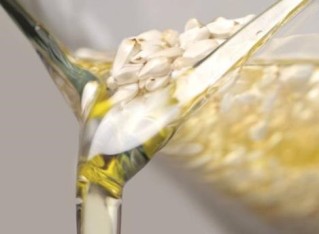 What is RNAi gene silencing?
Hailed as a breakthrough in molecular biology, RNA interference makes it possible to silence gene expression.
Genes are found in living organisms and are passed on from one generation to the next. They are the coded instructions an organism uses to make proteins, and it is these proteins that make up the structures and perform the functions of living things.
Gene silencing is a way of reducing, or switching off, the activity, or expression, of single genes. As RNA is the courier that delivers the gene's instructions to make a protein, by changing the instructions for the RNA strand, a gene can be prevented from making its protein - therefore 'silencing' the gene.
Because of its effect on RNA, gene silencing is also referred to as RNA interference (RNAi). RNA interference is a naturally occurring mechanism that has evolved in plants and animals over millions of years as a defense against viruses.
In the 1990s, CSIRO's research led to the discovery of this naturally occurring gene silencing mechanism in plants. It was then possible to better understand how the mechanism operates, in both plants and animals.
CSIRO's RNAi technology adapts this naturally occurring process to provide a targeted and specific method of altering gene activity. It has been adopted by research and biotechnology laboratories around the world.
In 2007 two of our scientists, Peter Waterhouse and Ming-Bo Wang, received the Prime Minister's Prize for Science for their discovery of how to silence genes in plants.
Advantages of RNAi
Precise: CSIRO's RNAi technology can target individual genes, even among a family of closely related genes. This means that only the gene of interest is affected.
Fast: thousands of genes can be rapidly targeted using RNAi with today's high-tech laboratory equipment.
Stable: traits based on RNAi have been shown to be stable for at least five generations.
Flexible: RNAi is effective for different species and phenotypes.
Controllable: researchers can turn off a gene completely or just 'turn down' its effects.
Examples of the use of RNAi technology
Better biofuels
CSIRO has made use of RNAi to develop a safflower seed oil that contains over 93 per cent oleic acid, a valuable component in industrial chemicals and lubricants. Scientists were able to switch off the enzymes that convert oleic acid into the polyunsaturated fatty acids during seed oil synthesis. Super high oleic oil safflower is being commercialised by GO Resources.
Potatoes that don't go brown
RNAi has been used by US company, Simplot to develop Innate® potatoes which bruise less than other potato varieties. The potatoes also produce less acrylamide, a chemical which can accumulate in starchy foods such as potatoes when they are cooked at high temperatures.
More digestible animal feed
Alfalfa (or lucerne) is an important source of cattle feed in many countries. One major challenge for farmers is that if harvested late, alfalfa can contain high levels of lignin, the fibrous material that is important for binding cells, fibres and vessels in plants. Animals are unable to digest lignin.
HarvXtra® alfalfa, produced by Forage Genetics, has up to 20 per cent less lignin, making it much more digestible for cattle. It can also be harvested seven to 10 days late without sacrificing quality.
Breeding better wheat
Australia's grain industry produces around 25 million tonnes of wheat and generates more than US$6 billion annually. CSIRO has a long history of developing wheat varieties with beneficial traits for yield, quality and disease resistance and environmental tolerance. RNAi technology has been used through all stages of trait selection and development. This has included identifying genes of interest and validating them as potential targets, as well as observing phenotypes in proof of concept tests.
Increasing aquaculture productivity
RNAi technology is being used across CSIRO's aquaculture research to:
identify genes associated with economically important traits
optimise the response to selection
reduce stock losses due to diseases, for example to develop an experimental anti-viral that prevents prawn mortality from Gill-Associated virus.
Access to CSIRO's RNAi plant gene silencing vectors
If you are an educational or research organisation you can access CSIRO's plant gene silencing vectors to use within your organisation for research purposes.
Related to this page