The challenge
Making complex protein data more accessible
Proteins are the building blocks of life, but they are complex structures made up of thousands of molecules. Researchers need a way to visualise the exact ways in which proteins fit together so that they can better understand the functions they play in our bodies.
Our response
Aquaria: a protein visualisation tool
We have created a new web-based tool named Aquaria that can create unprecedented 3D representations of protein structures.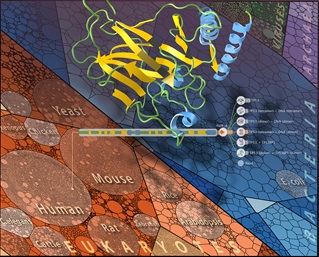 Aquaria uses data from the Protein Data Bank, an online resource which houses more than 100,000 structures of proteins that contains a wealth of detail about the molecular processes of life. The tool allows additional layers of information (like genetic differences) to be added to the basic protein structure and makes this complex data accessible in a fast, easy-to-use interface that's visualised in a fully 3D environment.
In 2020, the platform was updated to include a database of almost 1,000 protein structure models of the SARS-COVID-19 virus, enabling scientists and researchers to visualise different components of the virus and understand how they interact with human proteins to gain entry into the human system and develop the infection.
To help make this large, complex dataset accessible and usable for researchers, the team developed a tailored layout strategy to visually organise the 3D models by mapping them to the viral genome. These models can then be coloured to show sequence features, such as single nucleotide polymorphisms and post-translational modifications.
The results
Streamlined protein science
Freely and publicly accessible, Aquaria can help scientists like ecologists, nutritionists, biosecurity and medical researchers to streamline their discovery process and gain new insight into protein structures.
The 2020 COVID-19 update provides an immediate and comprehensive visual overview of what is known - and not known - about the 3D structure of the viral proteome of COVID, thereby helping direct future research.
Aquaria's COVID resource is freely available online, with the below video explaining how researchers can use the resource.
Aquaria was developed in collaboration with the Technical University of Munich, and is hosted with the support of a grant from Amazon Web Services.